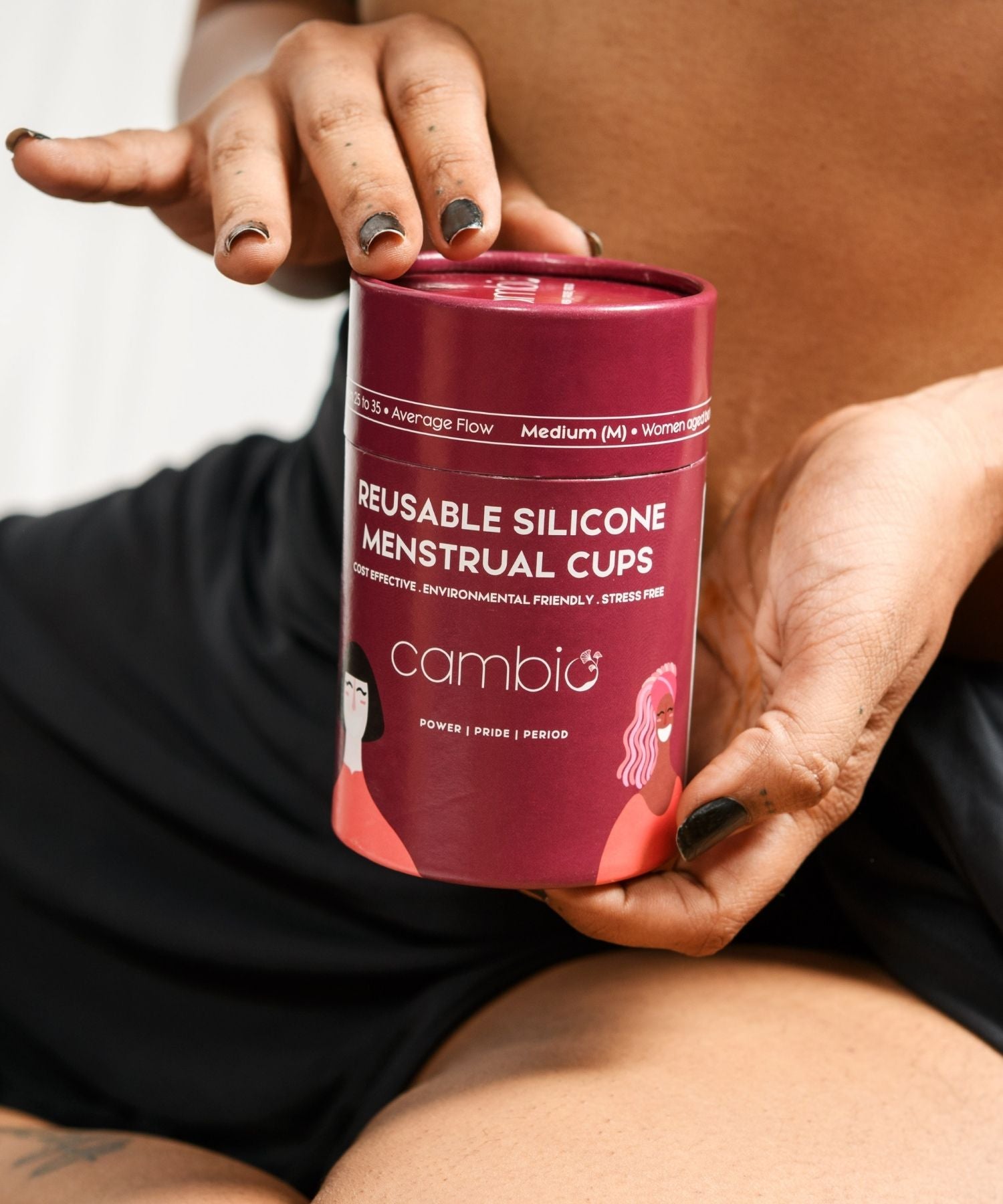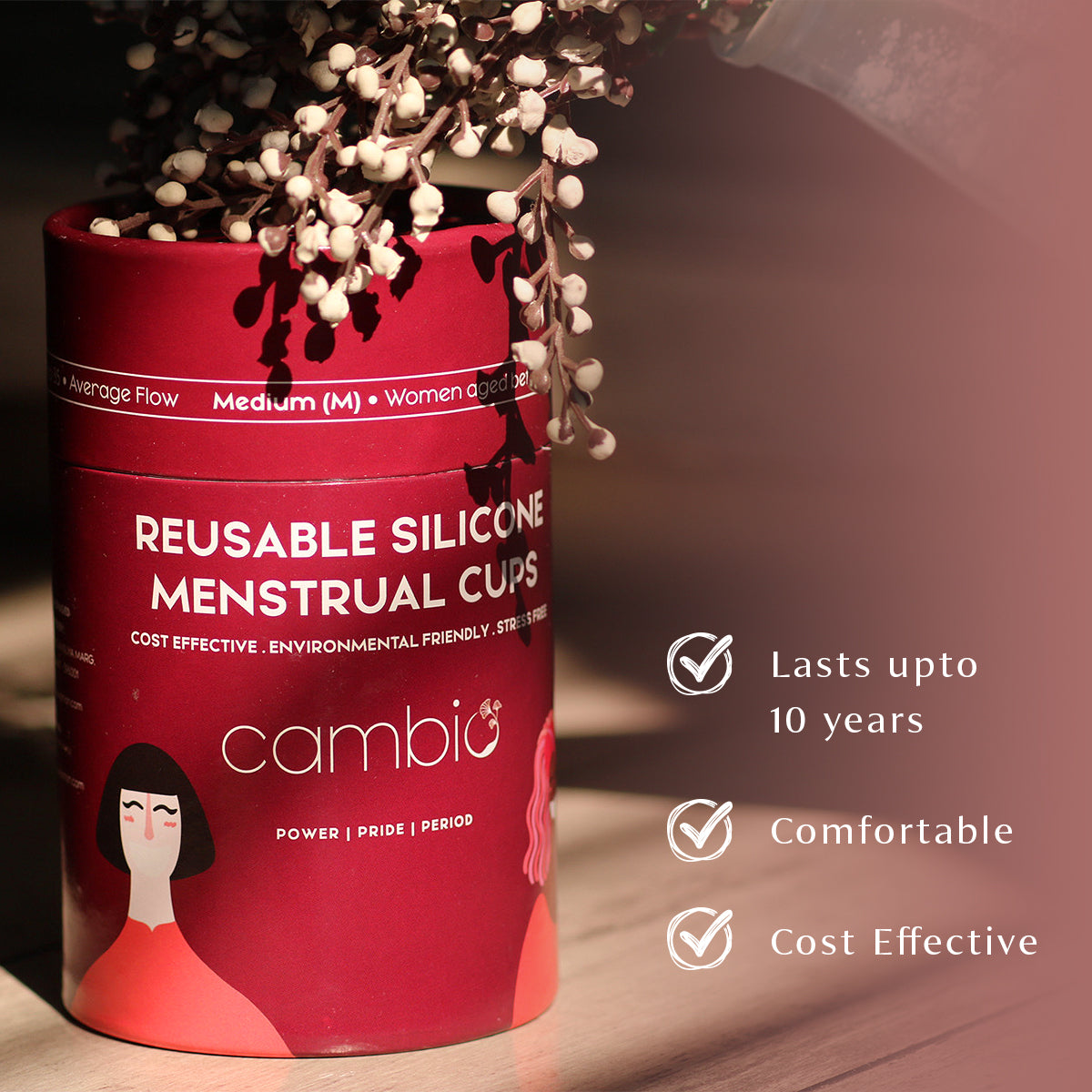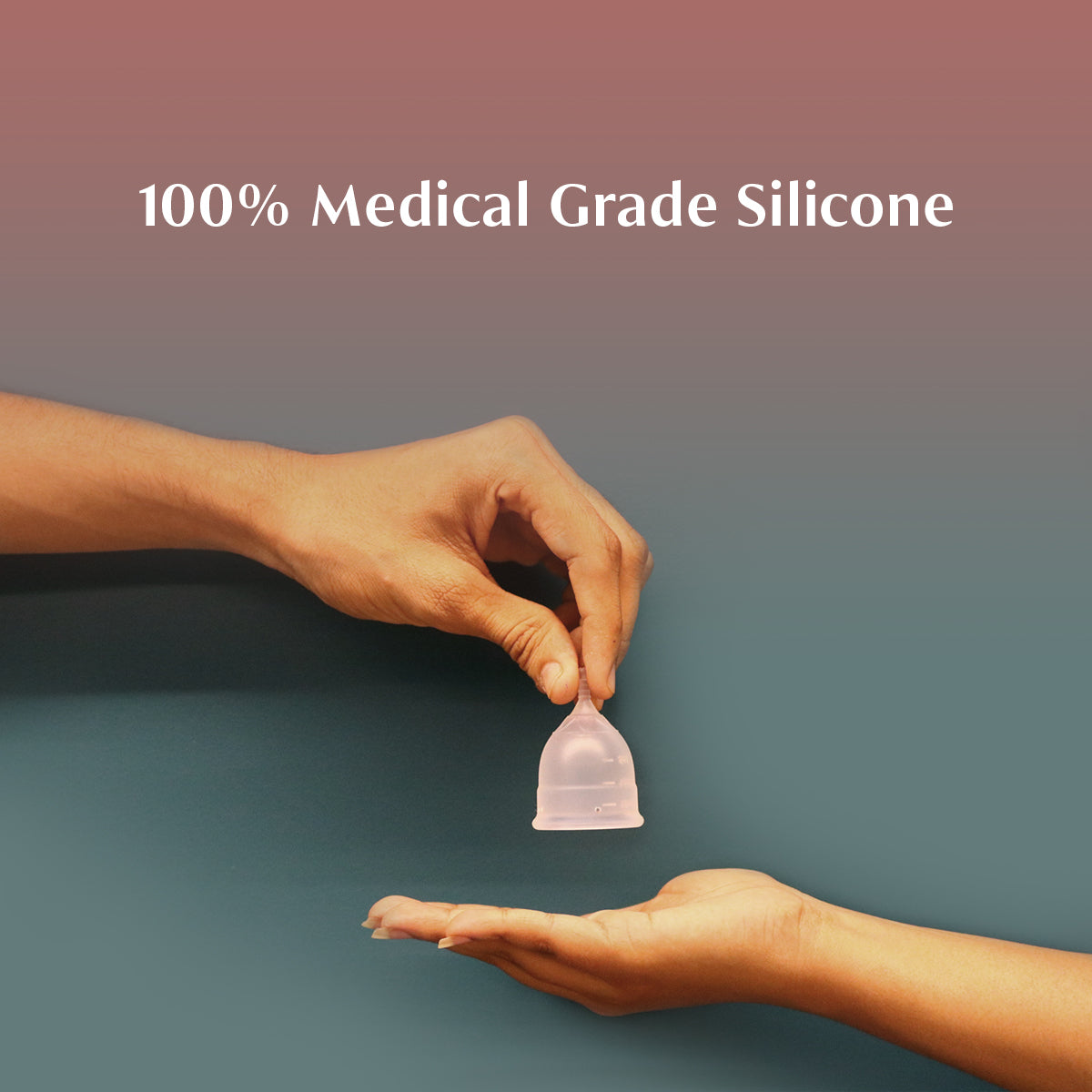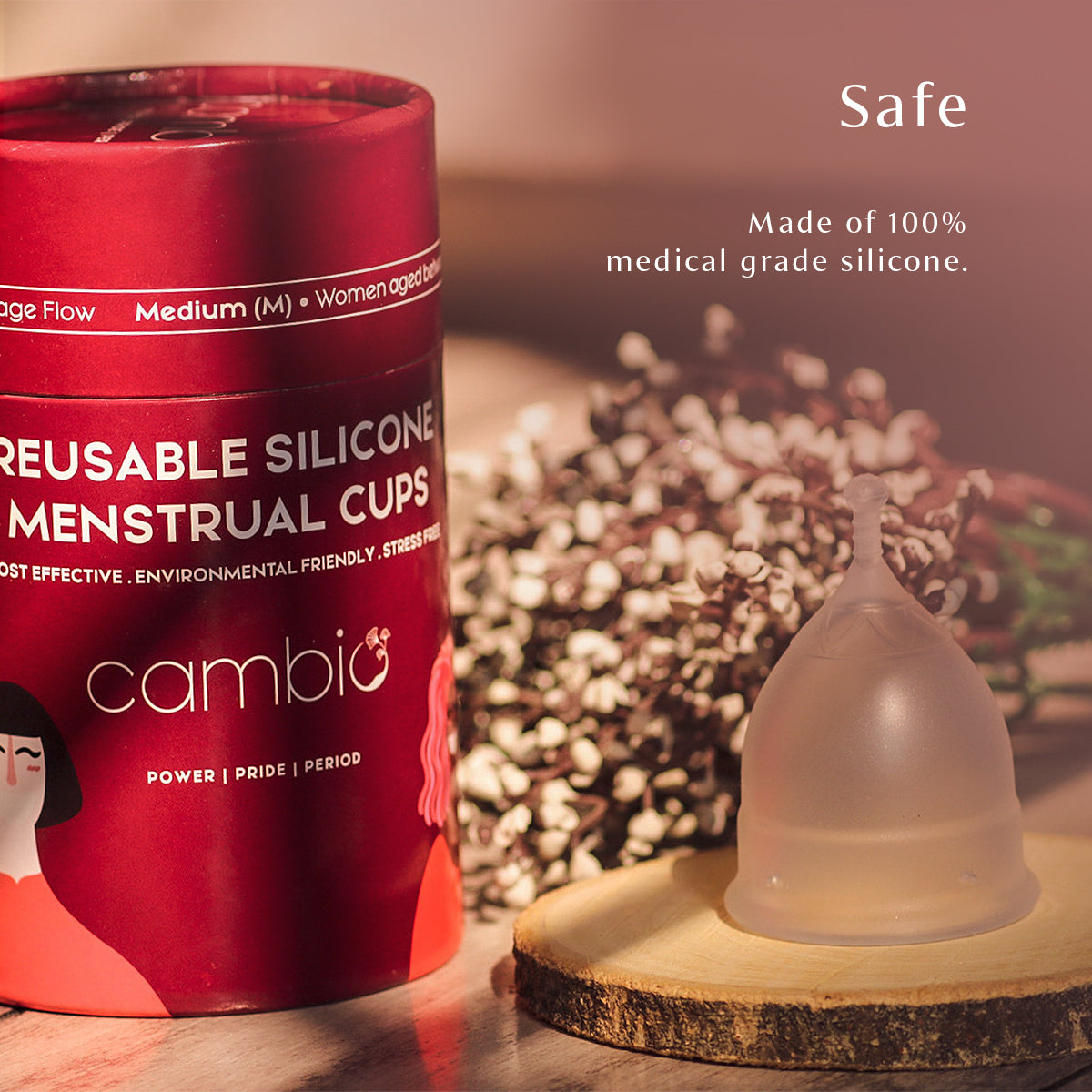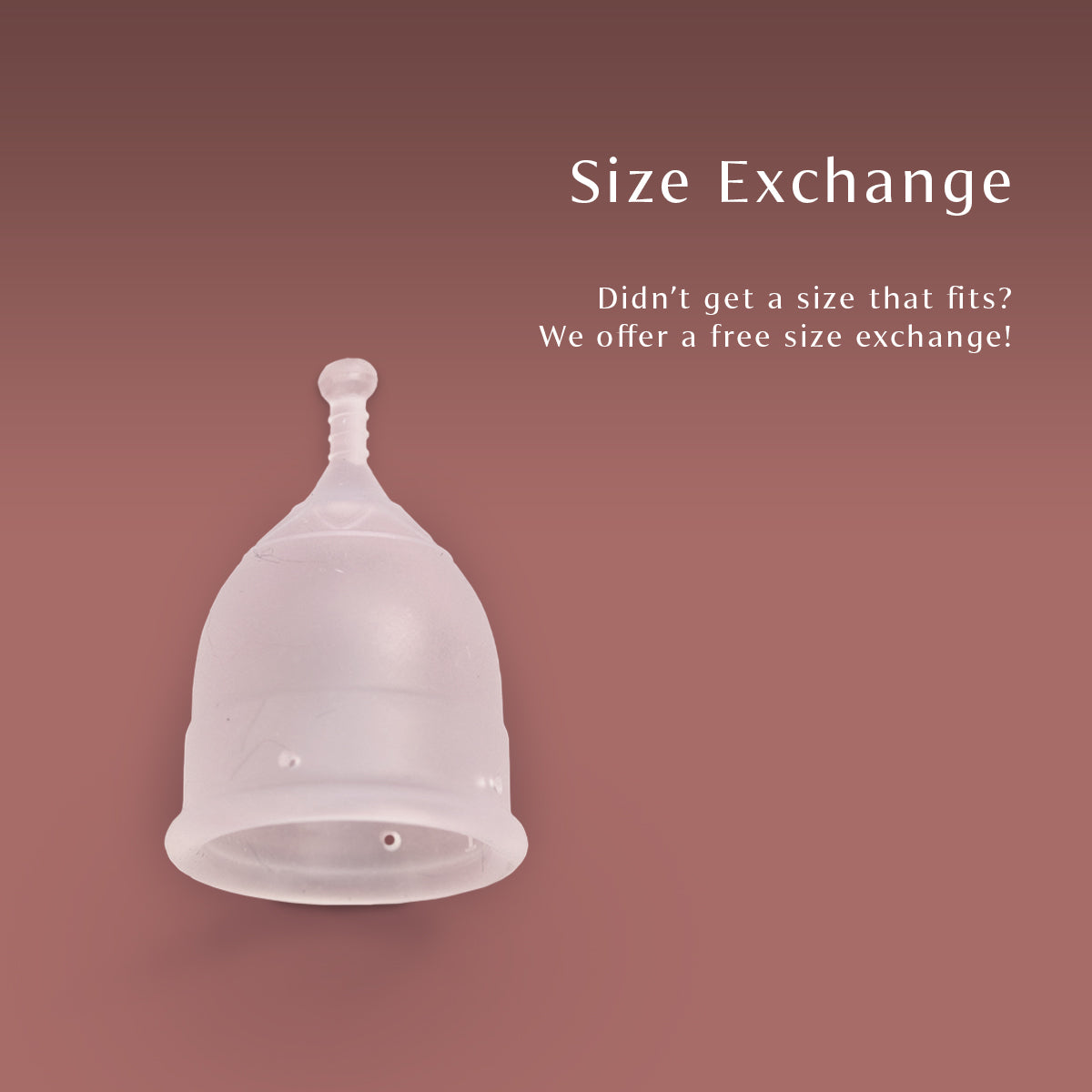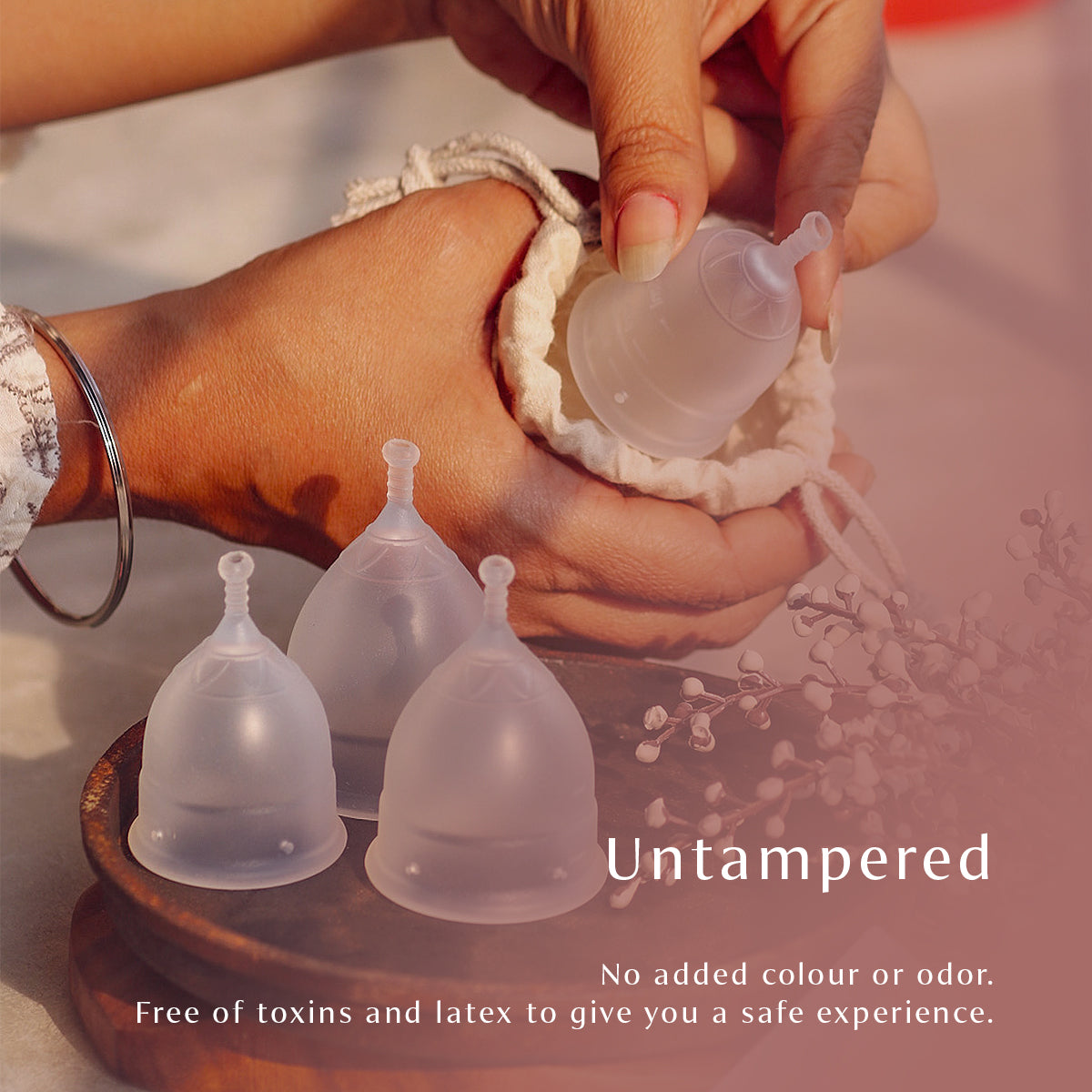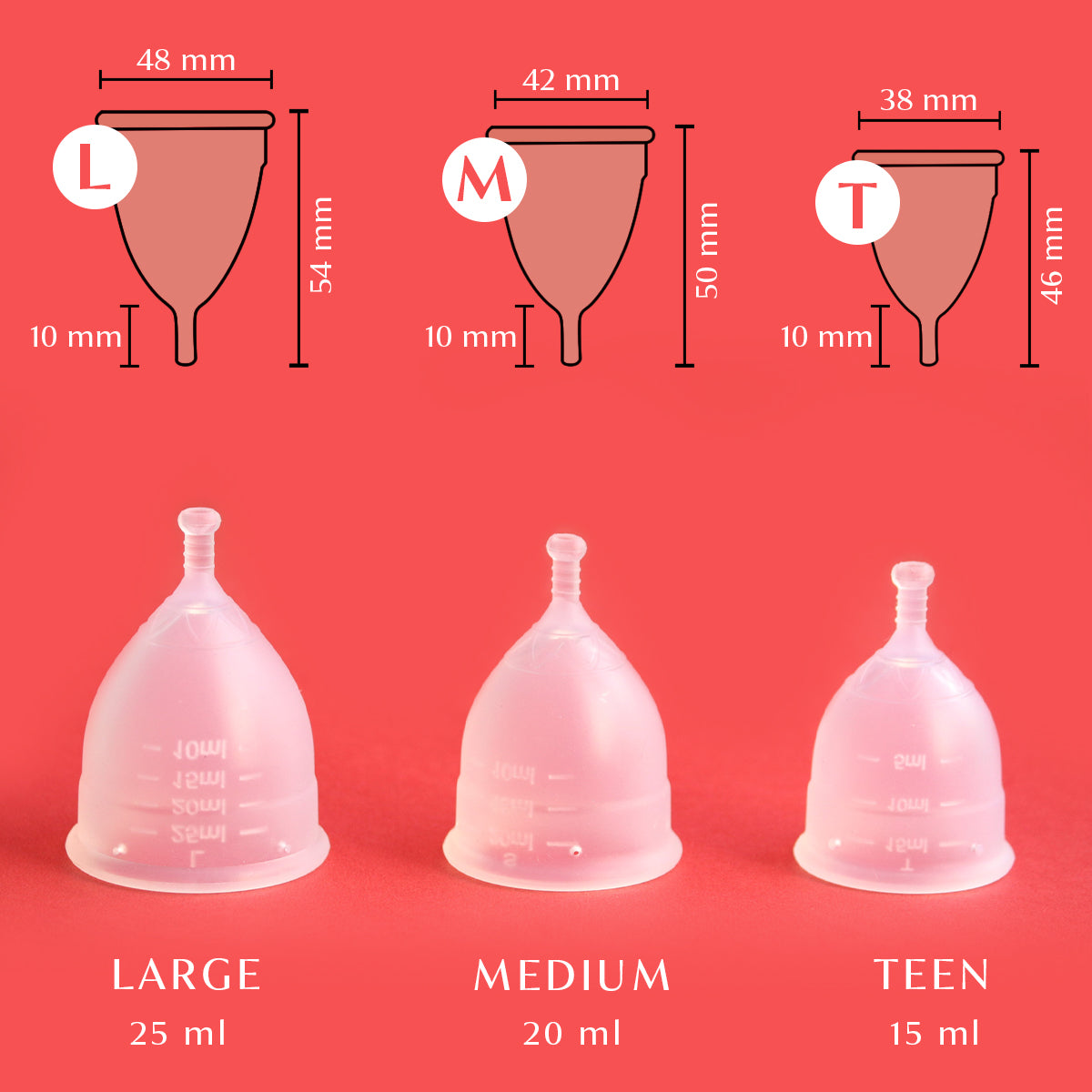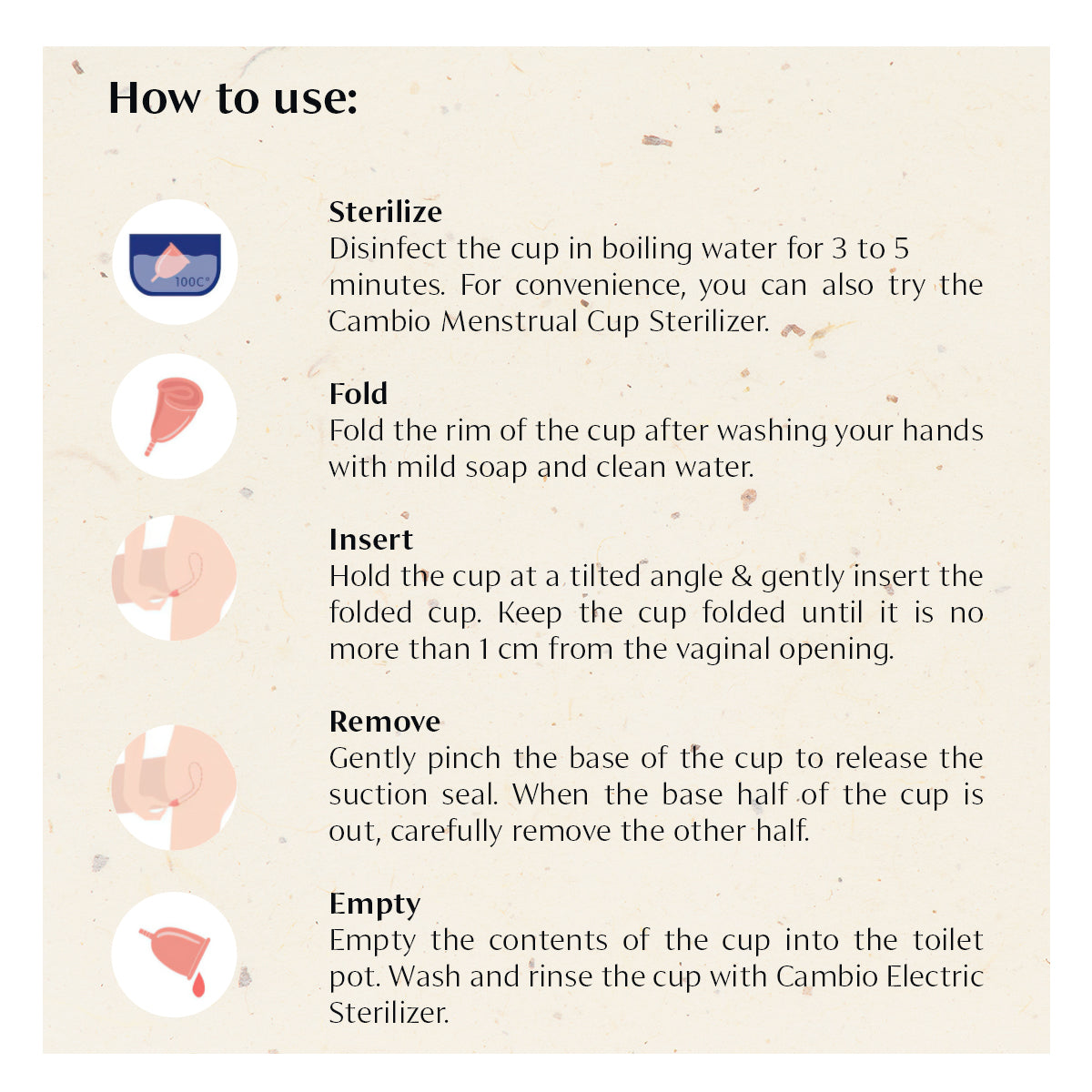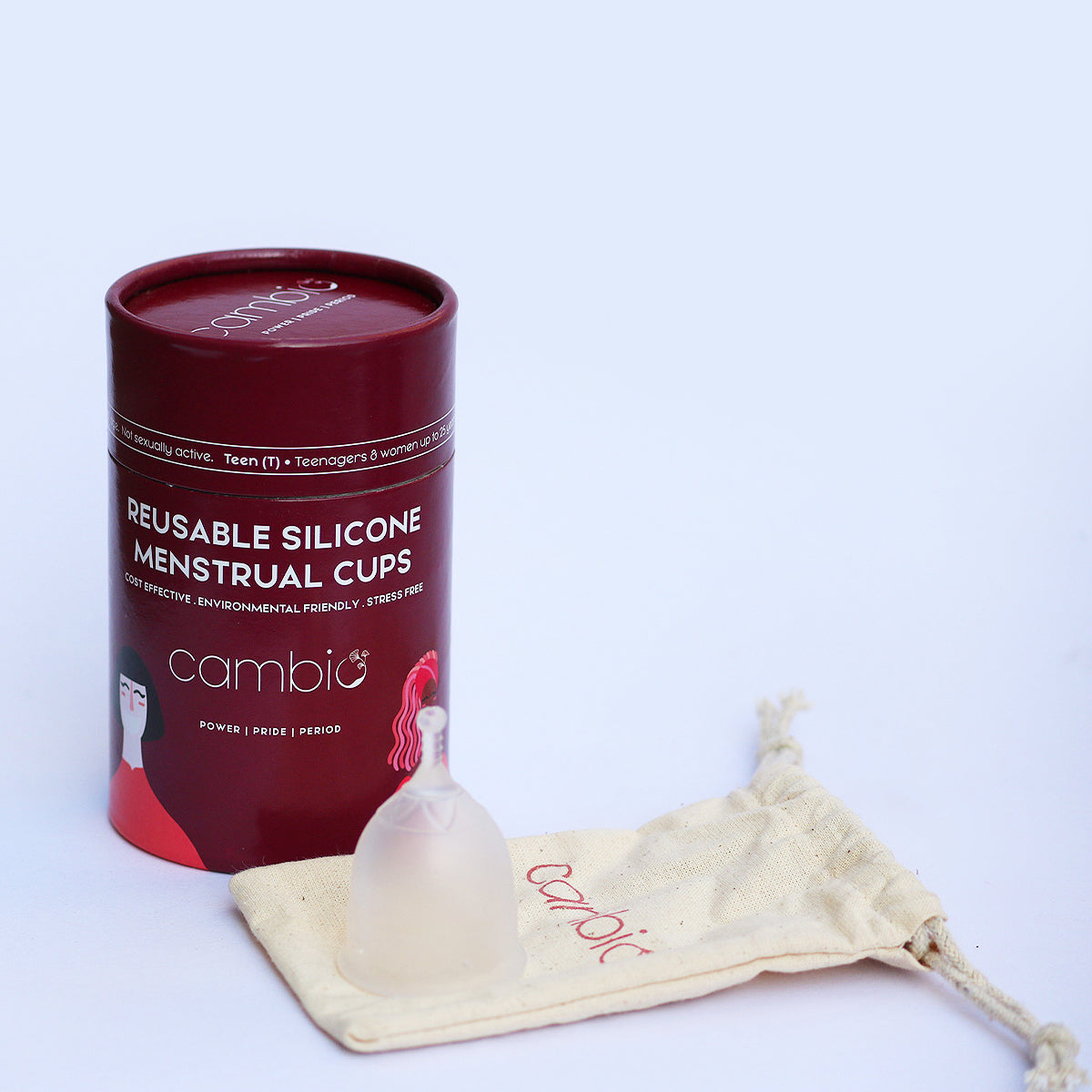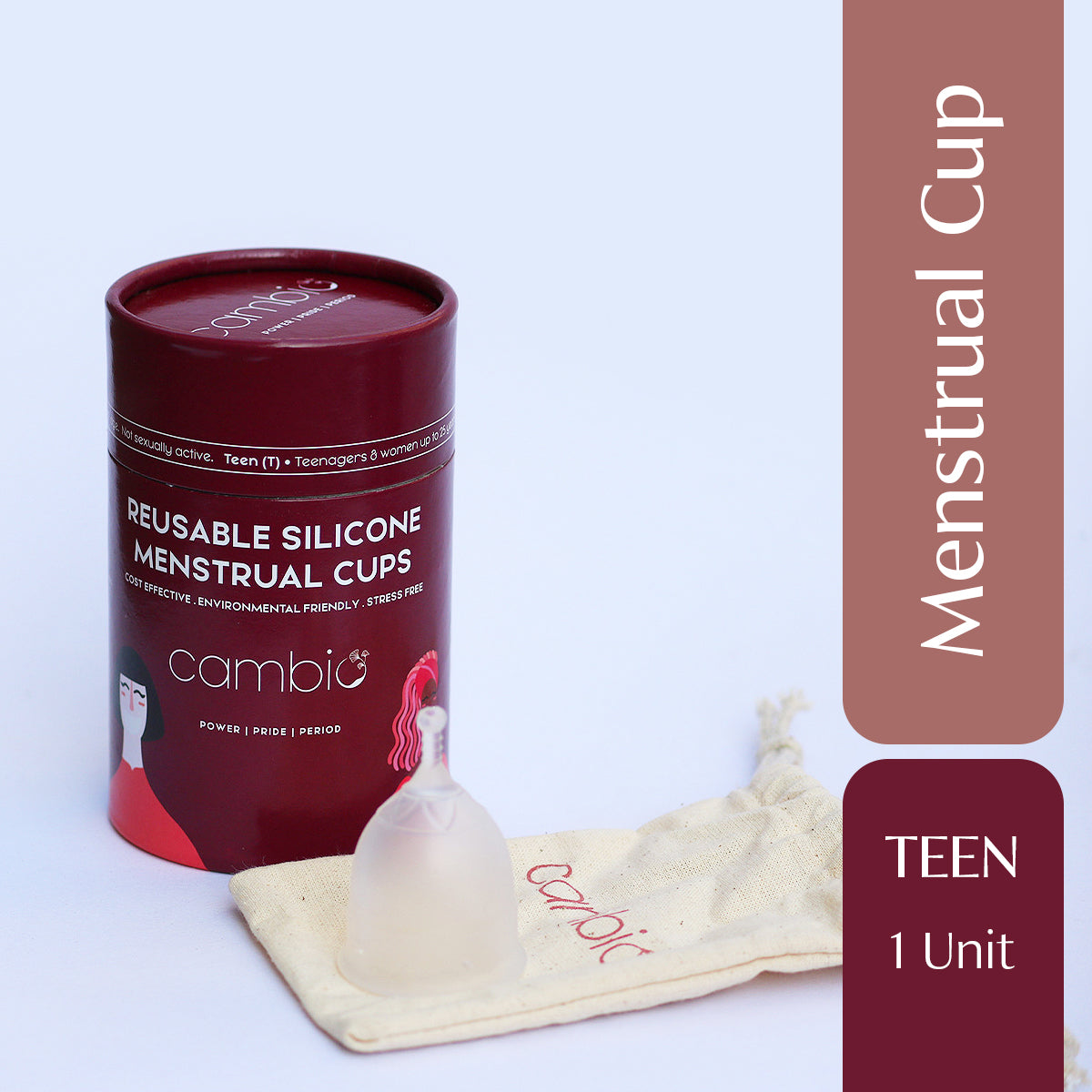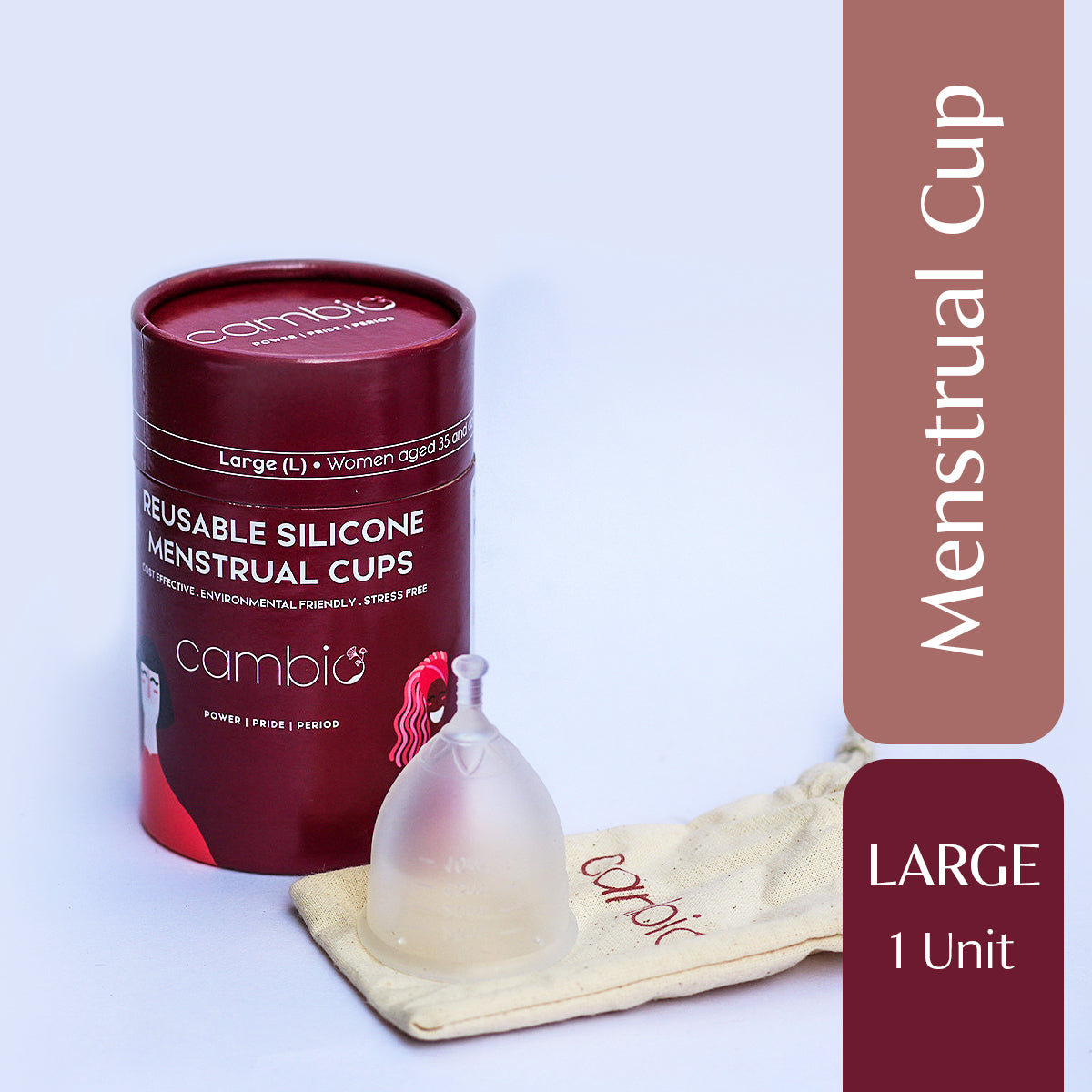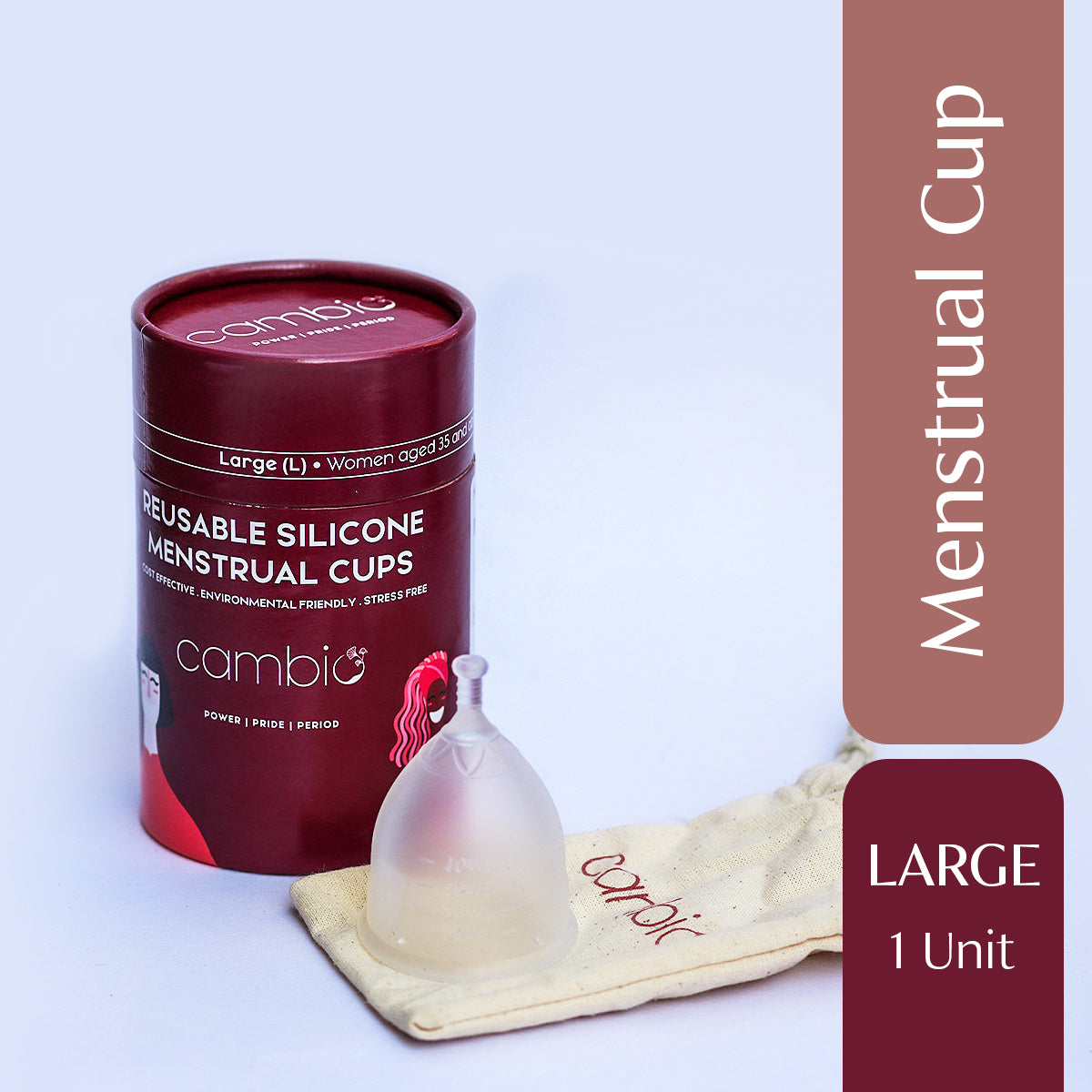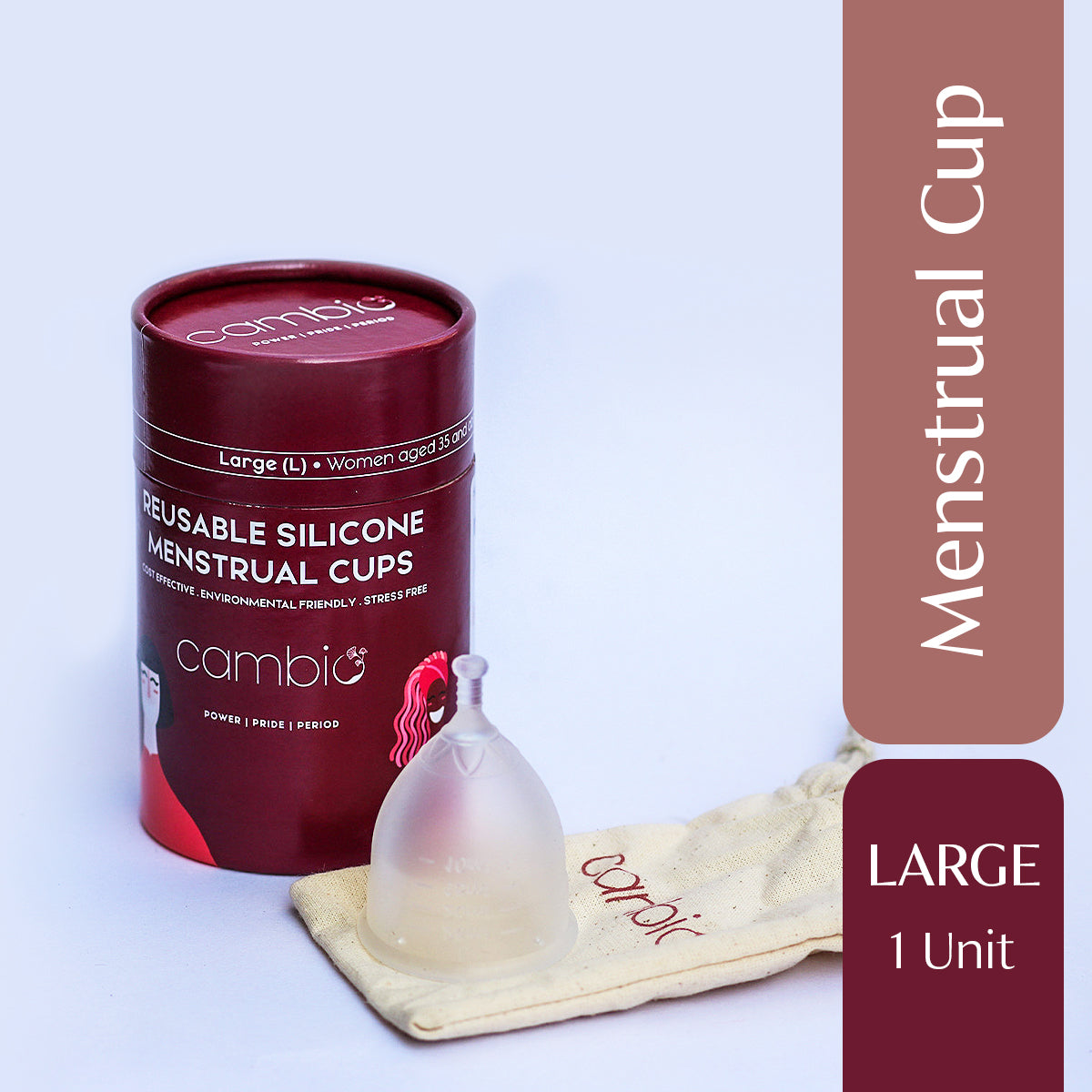 Reusable Menstrual Cup with Pouch for Women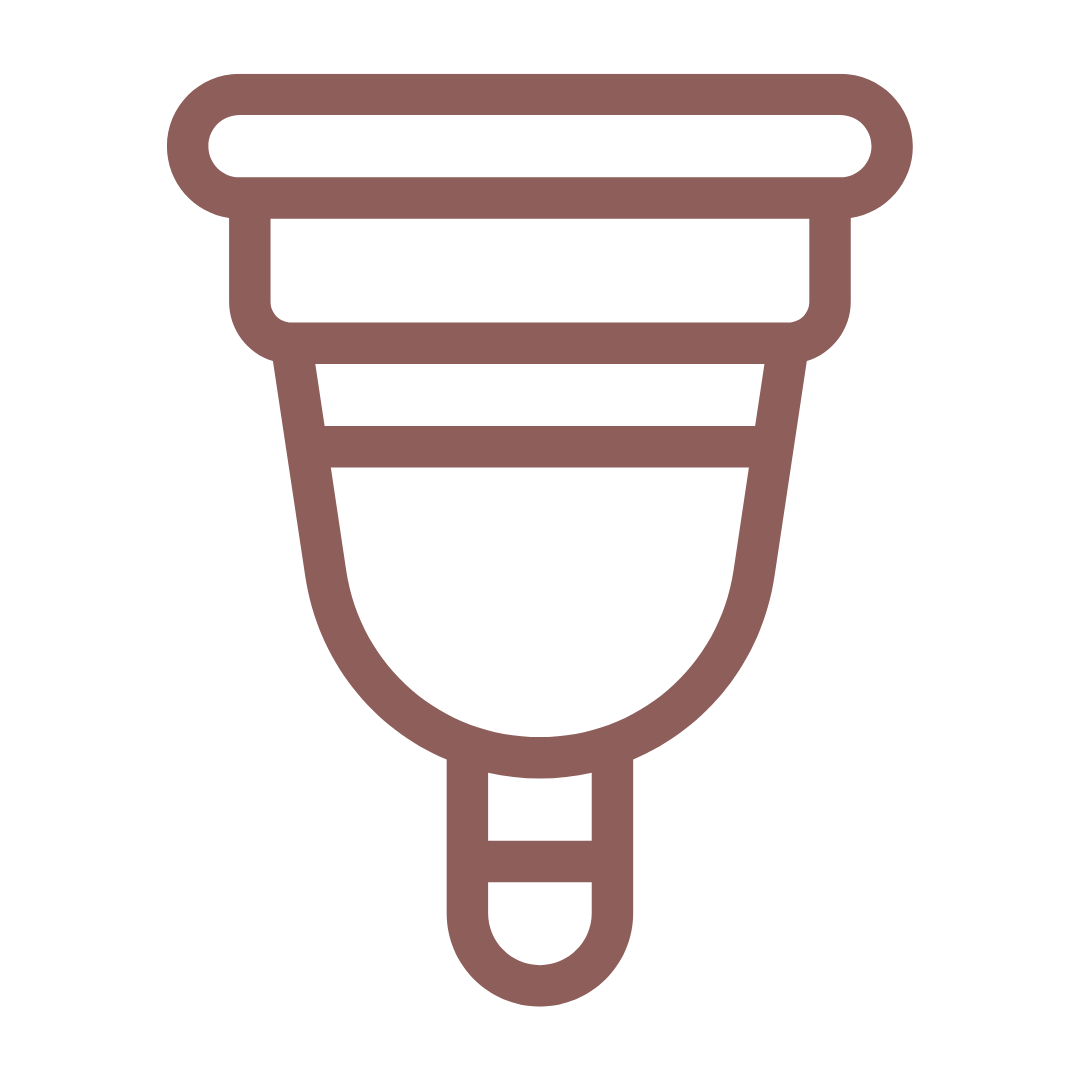 Medical Grade VI Silicone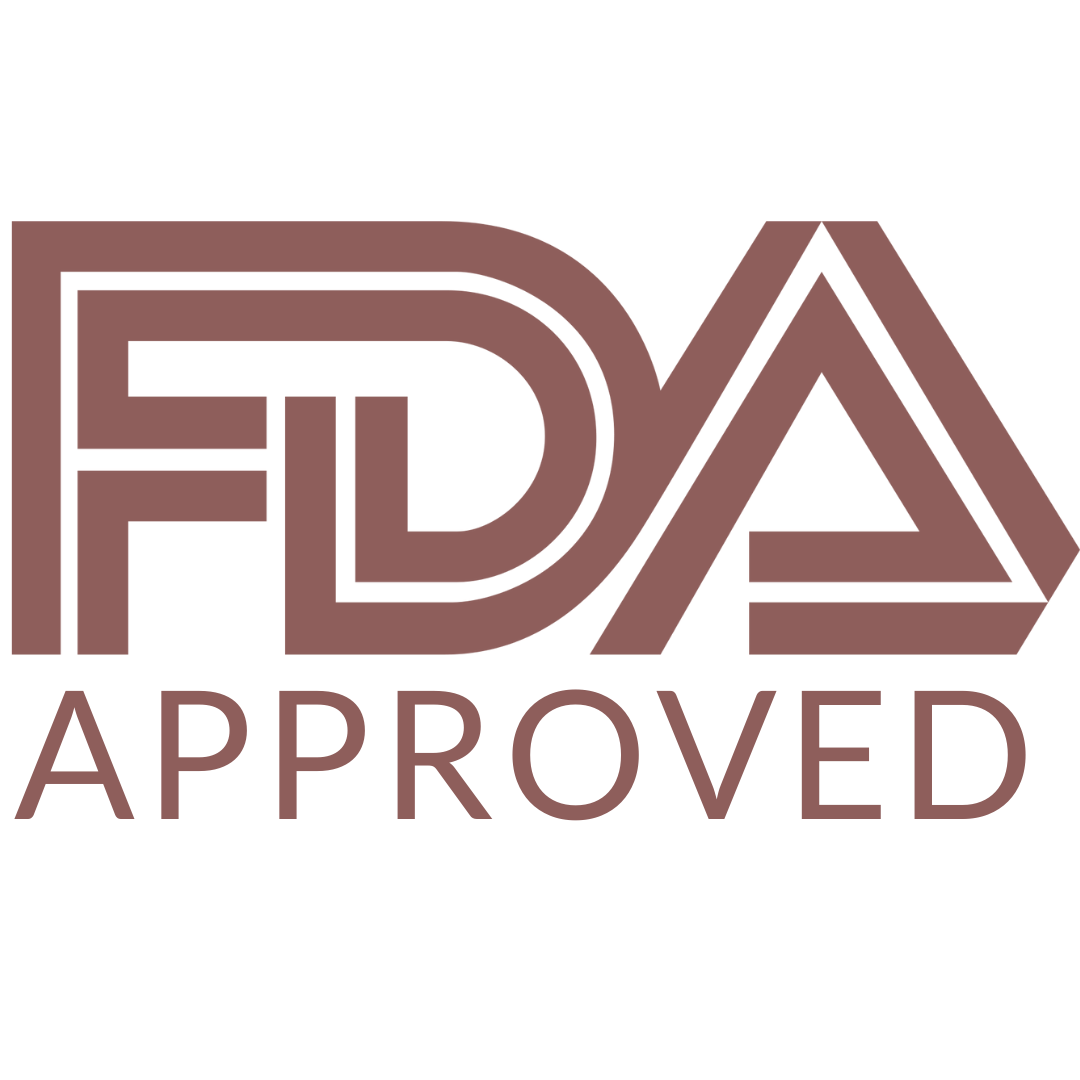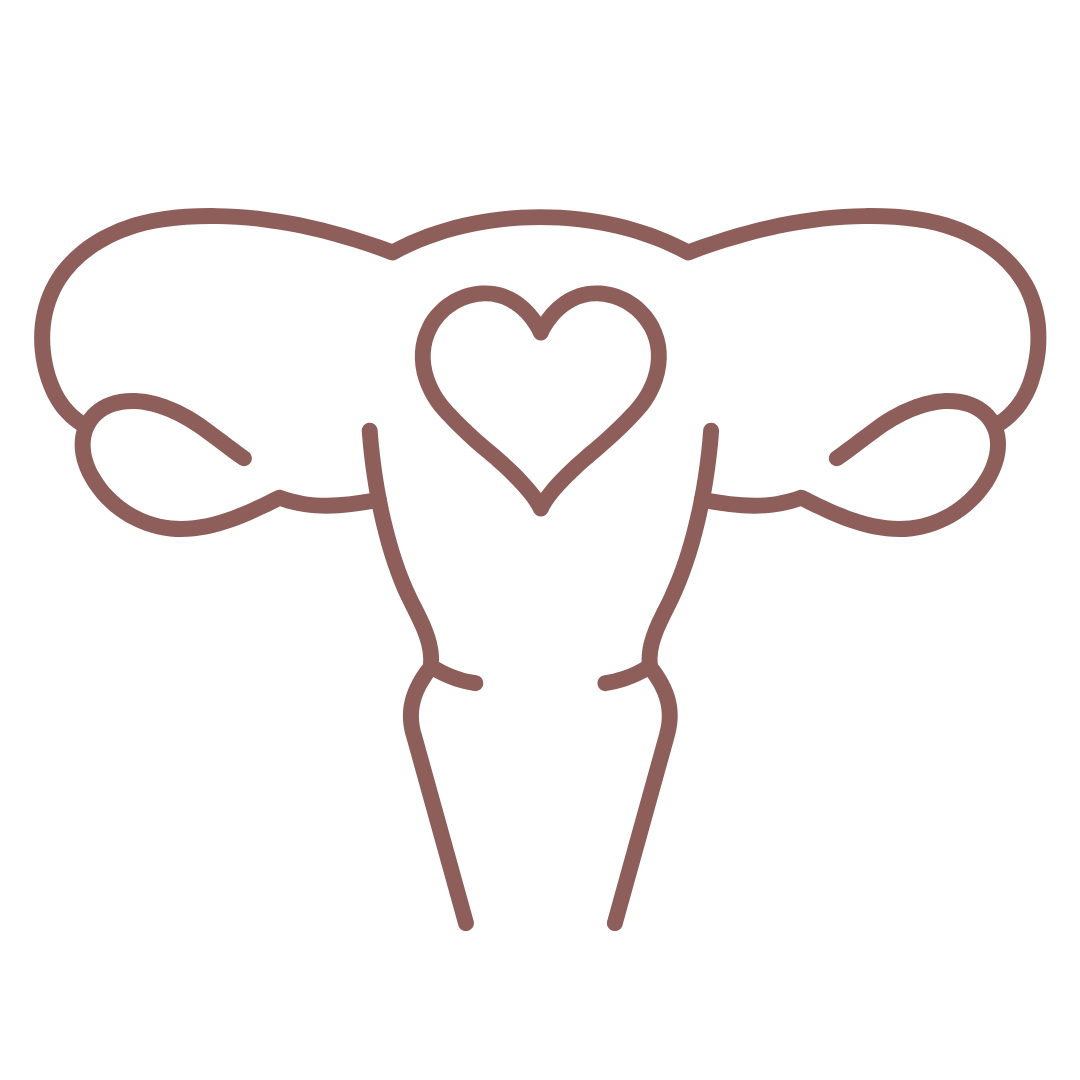 Vaginal Membrane Irritation Test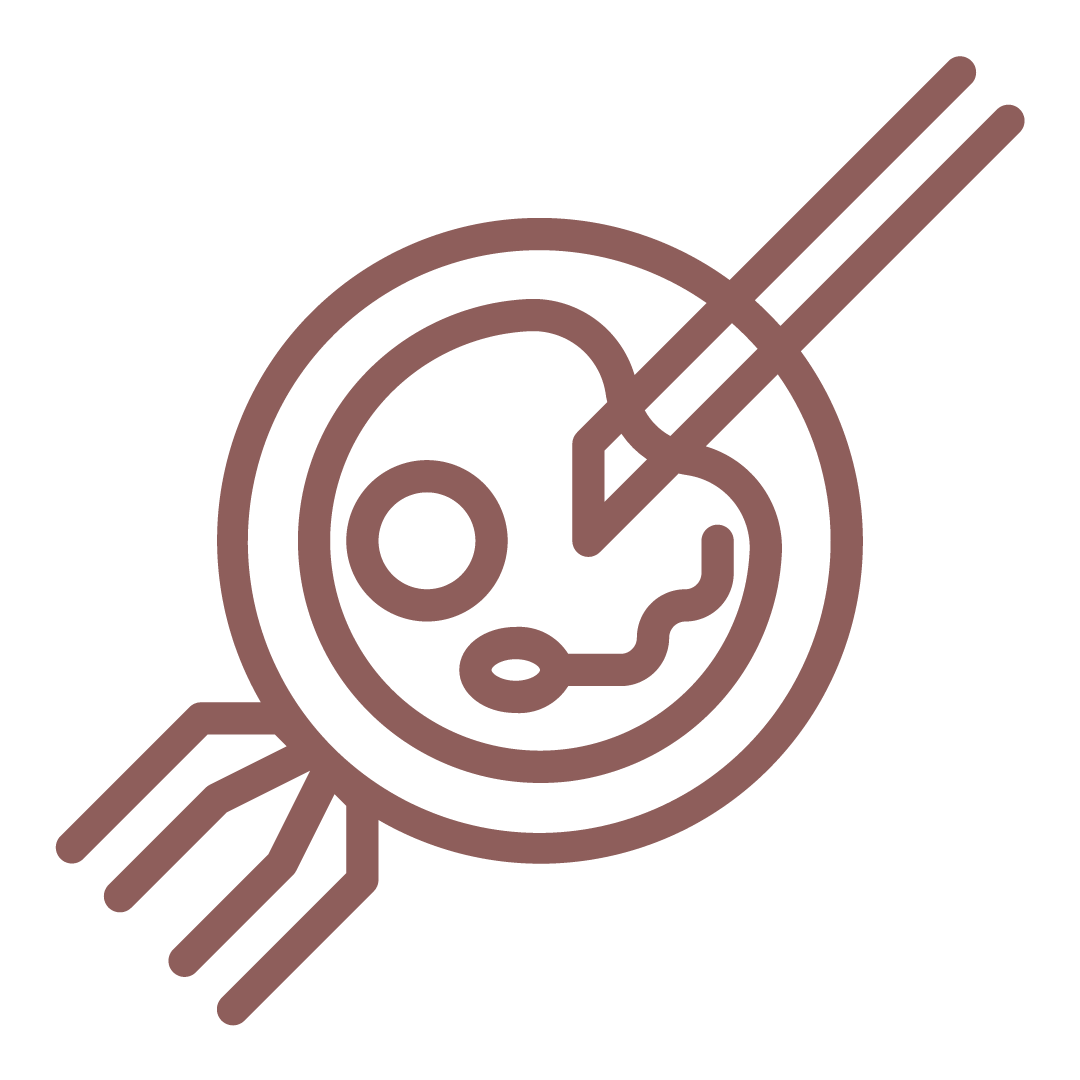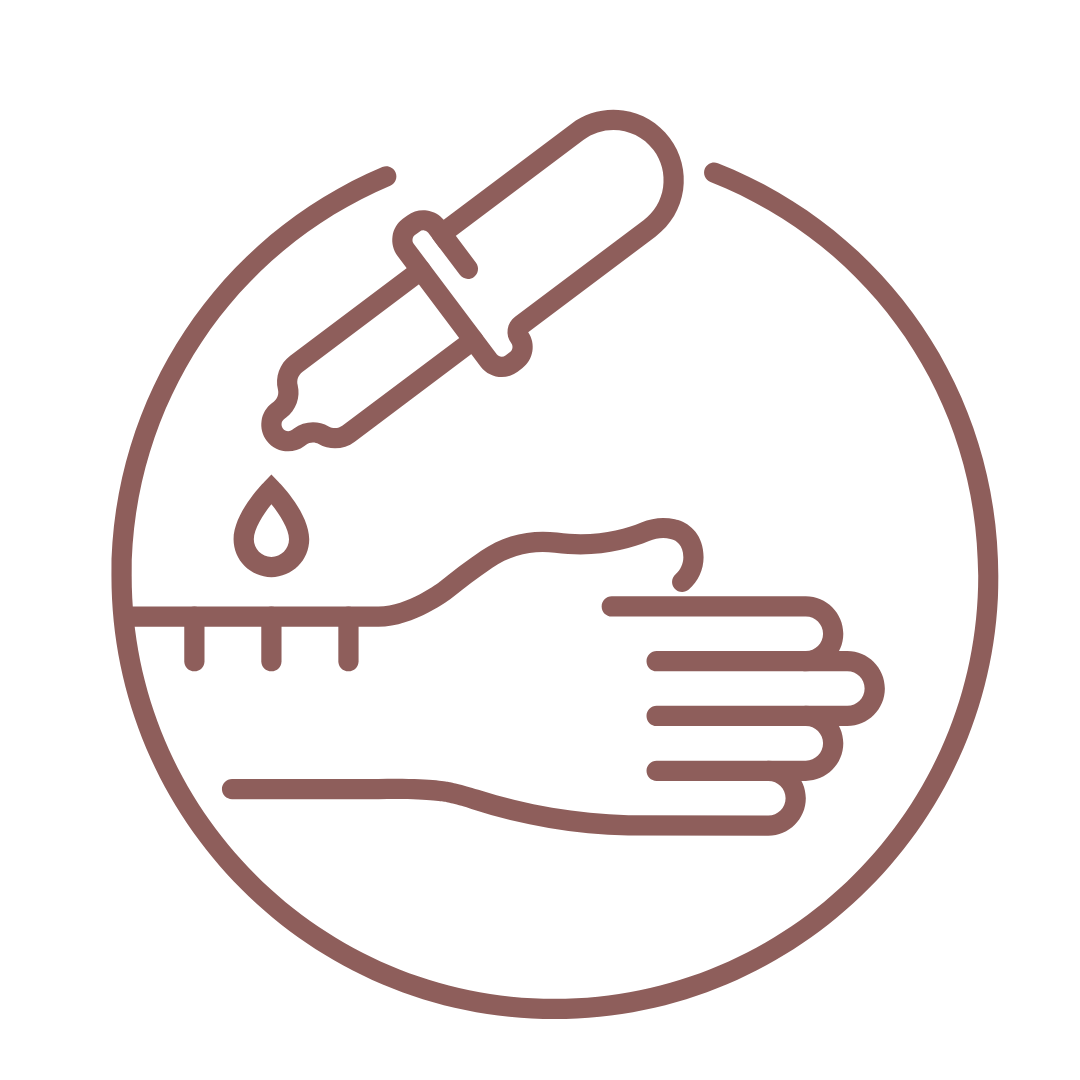 Designed and Engineered in the USA, Especially designed short stem for easy removal

Best Cup for first time users, Economical and Sustainable

Leak free protection for upto 12 hours, Re-use upto 10 years

No Rashes, Discomfort, Odour and Itching, 100% Premium Medical Grade VI Silicone

Package contains – Cambio Menstrual Cup, Cloth Bag for storage and User Guide

Free size exchange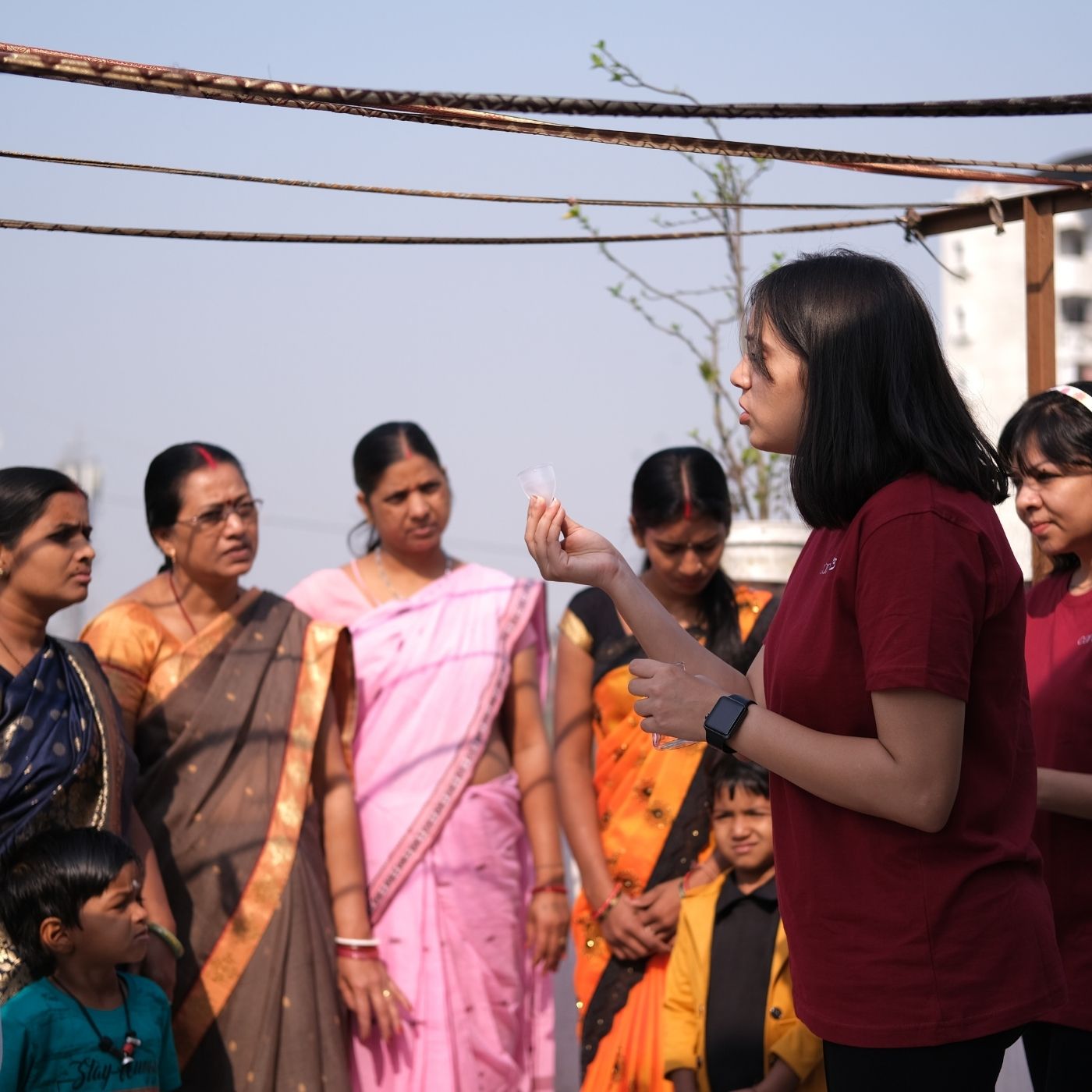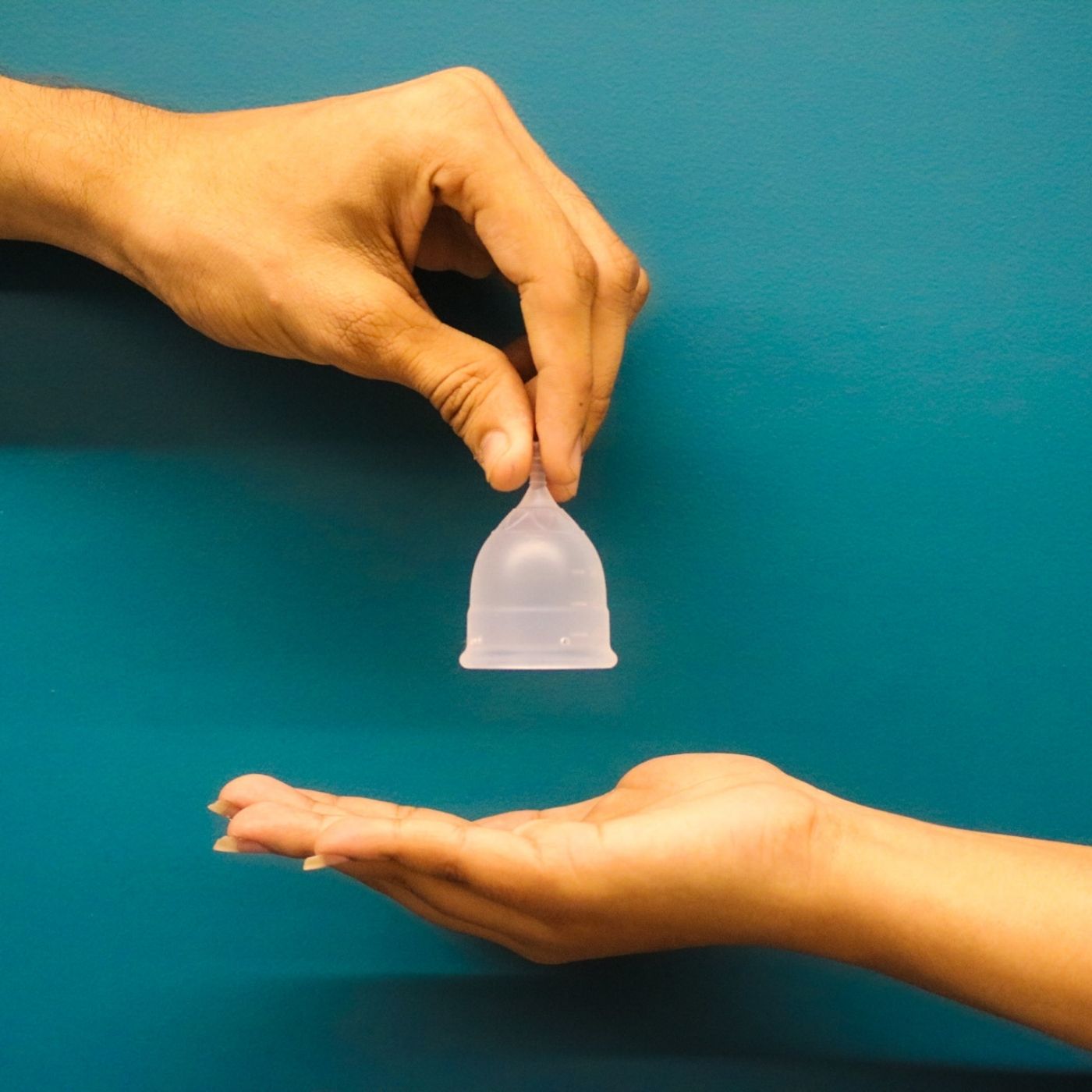 your purchase can help
Reduce Period Poverty
A cup bought is a cup donated. For every cup purchased on our website, we donate one to a woman in need. Since a single cup can serve for almost a decade, it helps bring #ReducePeriodPoverty where it is most needed.
To err is human
Free Size Exchange
We understand that you might not find the right fit of cup for yourself right away. Don't worry! If it doesn't fit, we will exchange the size, for free. Click the button below to apply.
I was very nervous about trying a menstrual cup as I had never used one before and quite frankly I had preconceptions that this was going to be very messy and there is no way this would work but I have always like to try to be open minded so I caved and bought the Cambio Cup. The first time inserting, it was honestly hard and I was not sure of what I was doing. But after a few tries I figured out the fold that worked best for me and I have not had any leaks or any issues at all. I learned to use this cup after about 2 cycles but it has honestly been life changing for me. I used to hate having periods due to having to use pads and such..but this Cambio Cup is so amazing and I am forever grateful to Cambio brand for this. Thankyou for changing my life.
Cambio Menstrual Cups have made my life easy and hassle free. I love the way the have curated this product. It is so goooood
I was very adamant to switch to cups but I was not able to find a comfortable one. Cambio was the 5th brand I tried and they are so perfect. I highly recommend them. They provide what they claim. They're the best
I think the free size exchange this brand provides is the best, I bought L size which didn't fit well. They exchanged it with M that worked wonders for me
I should say it's not easy to use a Cup for the first time but once you get used to there's no looking back. Girls, it will change your lives
A menstrual cup is a reusable period product that is funnel or bell-shaped. It is usually made of silicone or plastic and inserted in your vagina to collect period blood.
If this is your first time using cups, you may not know what size is best for you. Don't be concerned! Cambio will exchange the cup size for free if it does not fit!
Menstrual cups are completely safe. 
They are a risk-free product if you maintain proper period hygiene and clean and disinfect your cups regularly.
Menstrual cups are quite painless and should not cause discomfort when inserted into your vaginal canal. Of course, you may experience some pain while using the cup at first. However, once you've used it a few times, you won't feel anything at all!
REUSABLE MENSTRUAL CUP
Buy Reusable Menstrual Cup for Women in India
A Period Care Product with Fantastic Cup-abilities!
Meet the Menstrual Cup by Cambio Woman. Conceptualized with care, approved by FDA Regulations and tested under rigorous trials. Our Menstrual Cup offers you the highest sustainable, comfortable and safe period experience. The vaginal cup is 100% medical-grade silicone giving you a rash-free period experience!
Get ready to unleash your inner diva and conquer your periods like a true rockstar with our fantastic menstrual cups. With the best menstrual cups in the market,  say goodbye to the worries and risks associated with traditional menstrual hygiene methods, and embrace a new era of freedom and comfort.
Whether you're belting out tunes, busting out dance moves, hitting the gym, or simply enjoying a day of relaxation, our menstrual cups have you covered. Experience the ultimate confidence and convenience, and be the fearless, badass woman you were born to be. It's time to rock your menstrual cycles like a true queen and bid farewell to the hassle forever!
What's more, if you purchase the wrong size, we'll send you the correct size of the cup for free, no questions asked!
Curious about Reusable Menstrual Cups?
Are you looking for some safe hacks and techniques to care for Menstrual Cups online?
Check out the guide below!
All About Menstrual Cups: A Cambio's Guide To Wellness
Wearing a Menstrual Cup during Menstruation is not as difficult as you think. With correct techniques and sanitary practices, you can effortlessly switch to cups for a safe period experience. 
Menstrual Cups, also known as period cups, are reusable period care products that are inserted into the vagina during menstruation cycles for period blood collection. The reusable period cup is usually made of silicone for flexibility and easy placement.
Usually shaped like a curved bell and a stick, they are available in different sizes Small, Medium and Large as per the user's benefits.
How Do I Determine What Size Of Period Cup Fits Me?
Certainly! Here's an expanded explanation of the three sizes available, considering the categories you provided:
1. Teen Size:
The teen-size menstrual cup is specifically designed for beginners and individuals who are virgins or have smaller vaginal cavities. It has a smaller diameter and shorter length, which makes it easier to insert and remove, particularly for those with limited experience using menstrual cups.
The teen-size cup is designed to provide a comfortable fit and reliable leak protection for individuals in their teenage years or those who have not engaged in sexual intercourse yet.
2. Medium Size:
The medium size vaginal cup is suitable for individuals who have an active sexual life. The medium size cup provides a balance between comfort and capacity, making it a versatile option for individuals with varying flow levels. It can accommodate a range of lifestyles, whether individuals have a regular or irregular menstrual cycle or engage in various physical activities.
3. Large Size:
The large-size vaginal cup is designed for women who have given birth vaginally. After vaginal childbirth, the vaginal cavity can experience changes, such as increased muscle laxity or a wider opening. The larger period cup is typically designed to offer a higher capacity to accommodate potentially heavier post-childbirth flows effectively.
These size differentiations consider the potential variations in vaginal anatomy resulting from different life stages and experiences.
However, it's important to note that individual preferences and needs may still vary. It's always recommended to consider your unique circumstances, such as your comfort level, flow intensity, and cervix position when choosing the most suitable menstrual cup size. 
For beginners, buying menstrual cups online is easy with us as we provide you with a free replacement with the correct period cup size in case of an incorrect size purchased, no questions asked.
Cambio's period cups are made of excellent medical-grade silicone with the perfect texture for a safe period experience.
Know your options: Types of period products
How To Use Period Cup?
Wash your hands: Before handling the menstrual cup, thoroughly wash your hands with soap and water to ensure cleanliness and minimize the risk of introducing bacteria into the vaginal area. Ensure your nails are clipped before you handle the period cup to make its shelf life longer. 
Sterilize the cup: Before the first use of a new menstrual cup, it's recommended to sterilize it. This usually involves boiling the cup in water for not more than 10 minutes to ensure it is clean and hygienic. Observe the period cup and ensure it doesn't stick to the bottom which can lead to it being burned. If you don't have a sterilizer, then I recommend you to buy one. Shop menstrual cup sterilizer from here.
Find a comfortable position: Choose a position that is comfortable for you, such as sitting on the toilet, squatting, or standing with one leg elevated.
Fold the cup: There are various folding techniques for menstrual cups, such as the C-fold, punch-down fold, or origami fold. Choose a folding method that works best for you and ensures easy insertion.
Insert the cup: Gently separate the labia with one hand and insert the folded period cup into the vaginal opening, angling it toward the tailbone. Release the fold and let the cup open fully inside the vagina. The vaginal cup should sit low in the vaginal canal, with the stem protruding slightly for easy removal.
Ensure proper placement and seal: Rotate the vaginal cup slightly and run a finger along the base to ensure it has fully opened and created a seal against the vaginal walls. This helps prevent leaks. You may also gently tug the stem to ensure the vaginal cup is properly positioned.
Check for comfort and leakage: After insertion, ensure the menstrual cup is comfortable and does not cause any discomfort. Additionally, check for any signs of leakage. If you experience leaks, you may need to adjust the cup's position or try a different size or brand that suits your body better.
Empty and clean the cup: Depending on your flow, you will need to empty the menstrual cup every 4 to 12 hours. Wash your hands before removing the cup. Grip the base of the period cup and gently pull it out. Empty the contents into the toilet, wash the cup with warm water and mild soap, and rinse it thoroughly before reinserting. Remember to sterilize the cup at the end of your menstrual cycle.
To know more about menstrual cup, do check out this link.
Cambio's Hacks for Ultimate Vaginal Cup Experience
Understand your anatomy to find the best size for you
Trim the stem if needed.
Use water-based lubricant if necessary.
Practice relaxation techniques like squats and deep breaths before inserting the vaginal cup.
Check the seal after insertion.
Empty and clean regularly. (every 4-10 hours depending on your flow).
Carry a water bottle for rinsing if on the road.
Be patient and persistent.
If you're a first-timer using a vaginal cup, wear panty liners or organic pads for extra protection.
Wash the cup with a mild soap before reusing it.
Sterilize the period cup post-cycle completion/before using a brand new one by boiling it in water for not more than 10 minutes. Ensure the vaginal cup doesn't stick to the bottom; that could lead to the burning of the product. 
More from Cambio: cotton tampons , Organic Pads and Panty liner