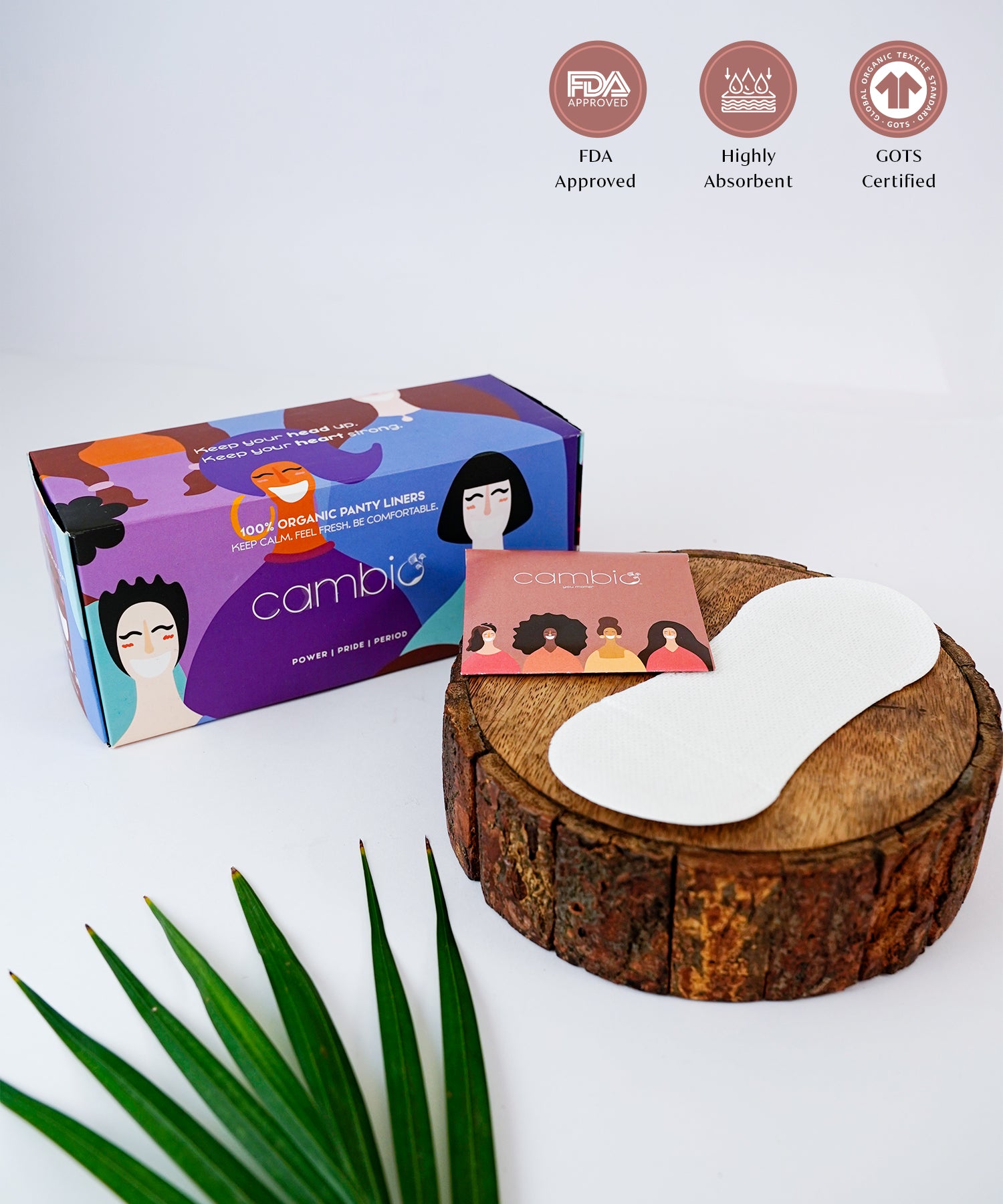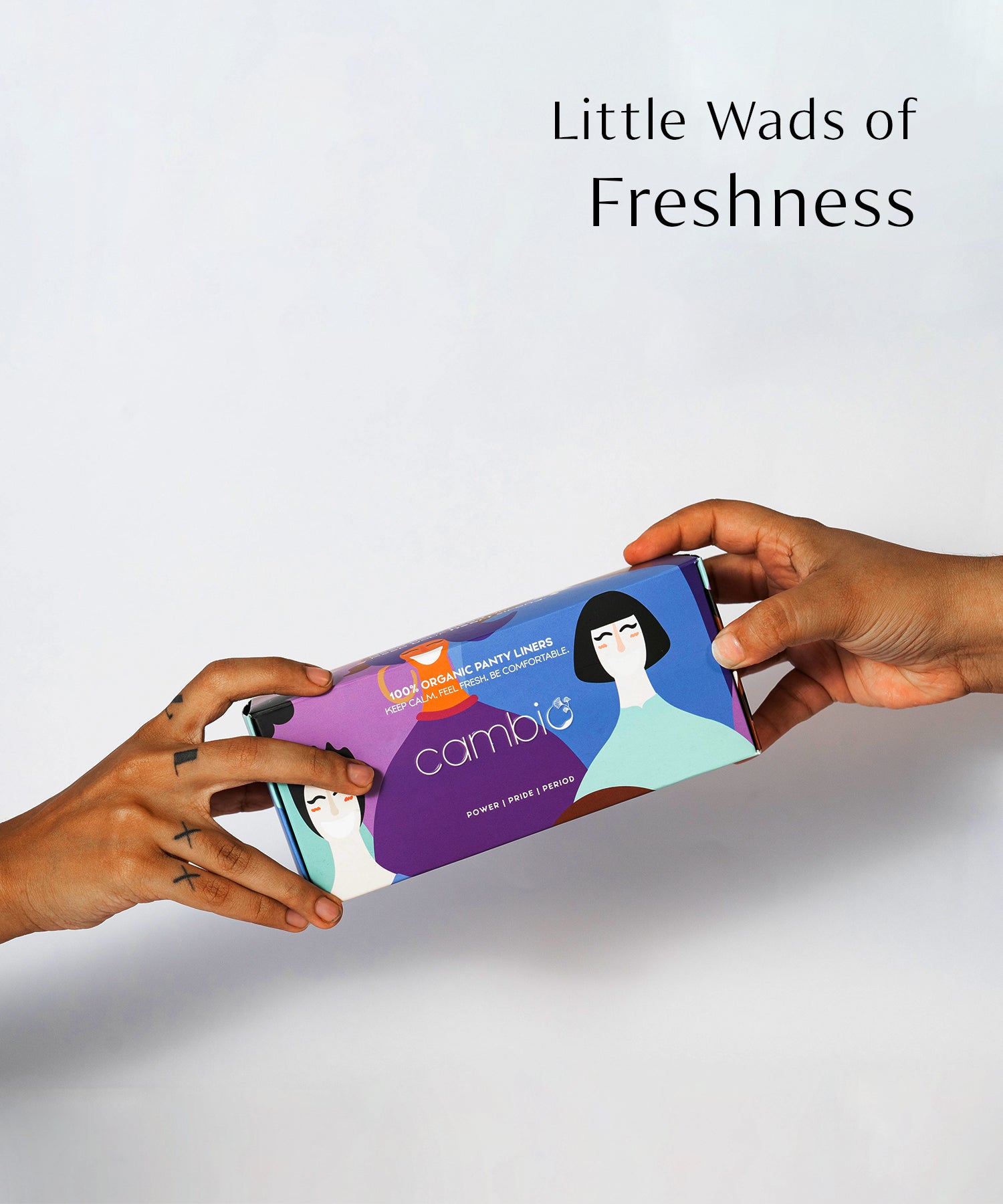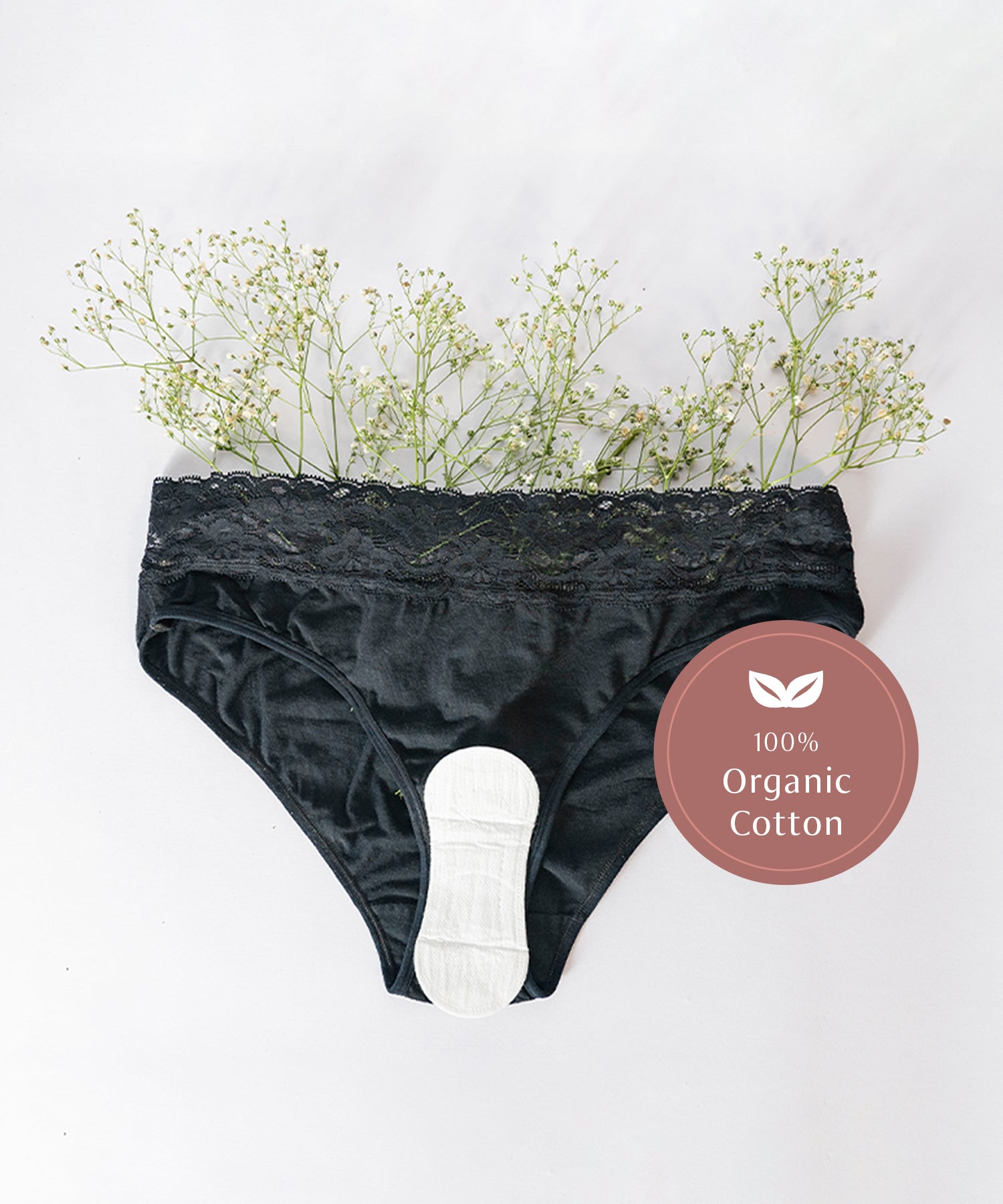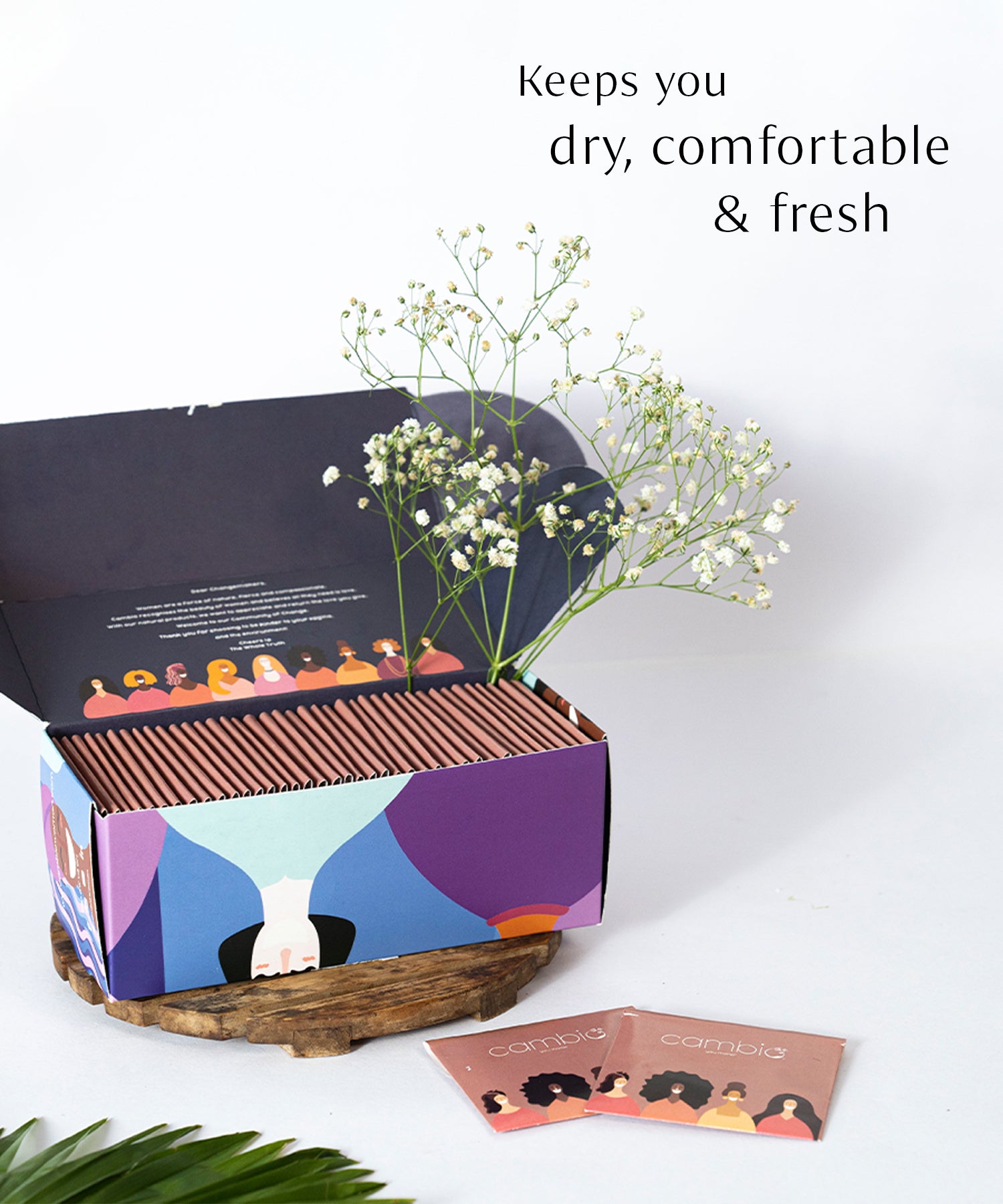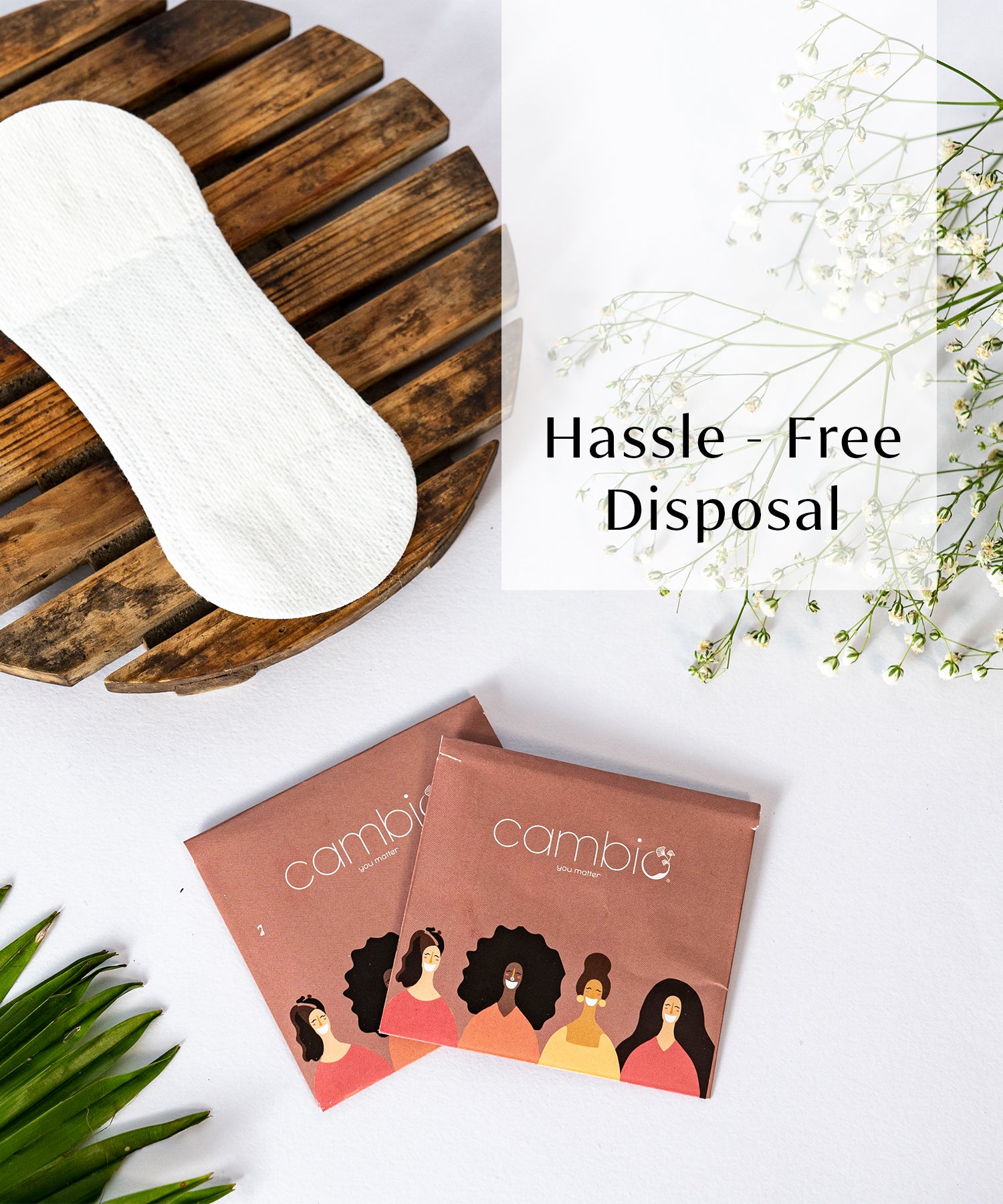 Organic Cotton Panty Liners
Package contains – 40 pieces of Cambio 100% Organic Panty Liners along with 40 Recyclable Disposal Bags

Vaginal discharge is an inevitable occurrence and panty liners are the solution for it

This is a biodegradable product and is individually wrapped in disposable bags

They are chemical free and rash-free

Light- weight structure, No stress leak protection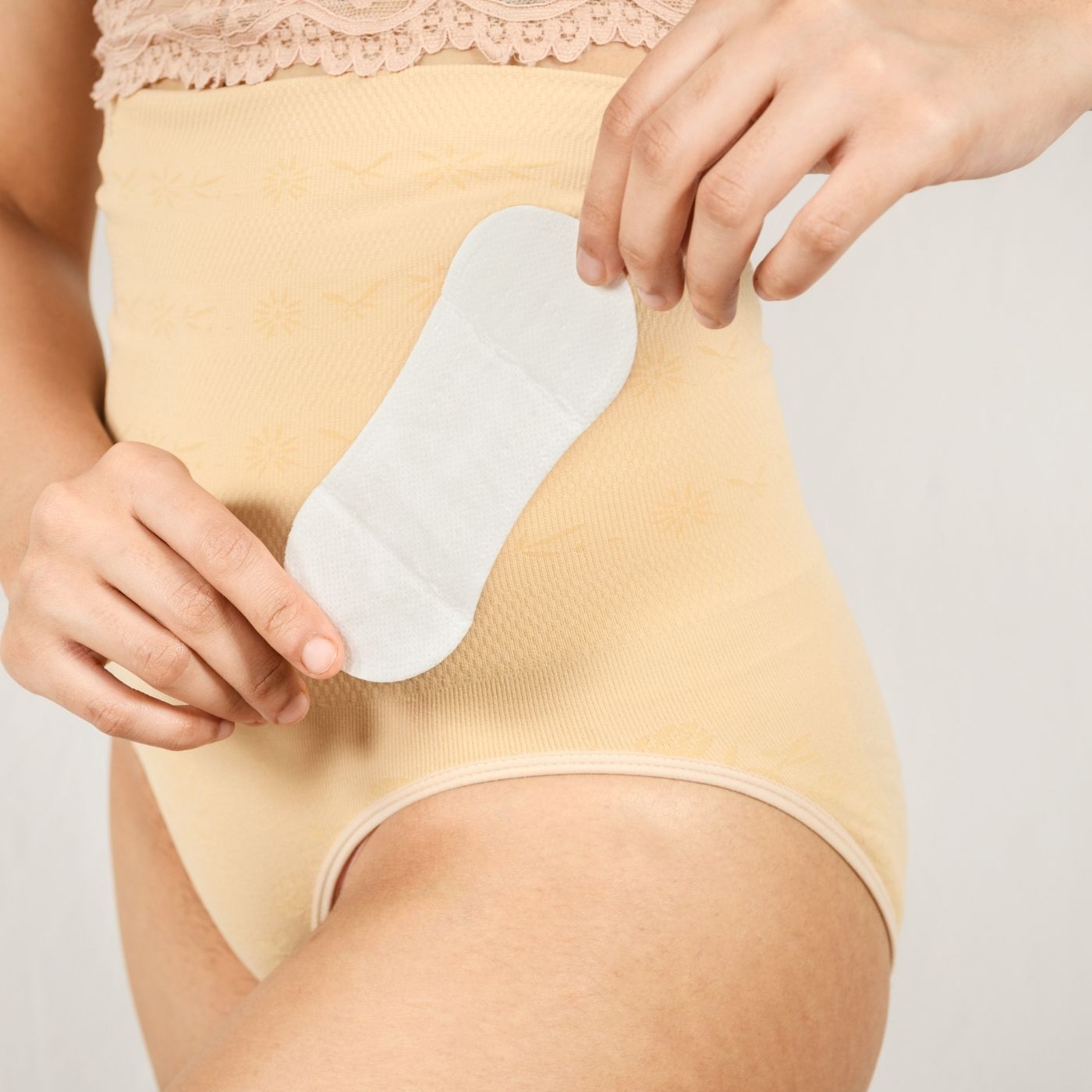 We care for you
100% Organic Cotton
Each Cambio Panty Liner is made from 100% Organic Cotton. No plastic elements means it is good for the environment. But more than that, it is good for your health! Stay dry. Stay healthy. Stay confident.
I feel Material, Quality, Packaging, Price point, everything is top notch
Very soft and comfortable liners. They are just enough coverage
These are the best liners, they hold a lot and I love how thin they are, it feels like you're not wearing anything
Absorbent, thin but not fragile, and soft. Sometimes I find pads or liners scratchy, but these ones were soft and gentle
Great size/fit and love the packaging they come in – convenient and compact but still a great size for protection
Cambio's Panty Liners are made up of 100% organic cotton. We believe in menstrual hygiene and wellness. Thus, you won't find any plastic or chemicals used in these panty-liners or any of our other products!
Pantyliners should be replaced every 3-5 hours.  They're not meant to be worn all day, whether you use them for your period or other discharges! This helps to keep your sensitive area hygienic & clean!
Pantyliners are an effective way to maintain hygiene down there. They keep your sensitive area dry and absorb all types of discharges, from period blood to other vaginal fluids.
Organic Panty Liners
Buy Panty Liners Online at Best Prices in India
Get your Groove with our Ultra-Fresh Cotton Panty Liners!
Extended Hours of work? 
Discharges making you feel discharged daily? 
Or Perhaps, it's the untimely visit by Aunty Flo? 
Whatever it is, you deserve the best in town to be the diva you are!
Cue Cambio's Ultra-thin, super-soft organic panty liners that make you feel fresh, dry and fabulous all day! They will be the best-kept secret in your bag, thanks to their super compact and easy-to-use design. Just pull it, place it, slay it!
Short Description of Cambio's Organic Panty Liners
Our Panty Liners are 100% Organic cotton panty liners without the nasties and filled with only the best ingredients for your sensitive areas. With a 100% biodegradable and breathable material, our chemical and scent-free liners give you extensive coverage to help you stay active throughout the day! With Cambio Woman, you'll never have to worry about having another day of uncomfortable feelings!
Why Cambio Cotton Panty Liners?
Sometimes we unexpectedly have awful days. We get it, life throws unexpected curveballs at us, and sometimes we need a little backup. Whether it's a hectic day at work, a spontaneous adventure, or you're approaching that time of the month, our panty liners have your back (should we say, your undies!). 
With an ultra-soft and breathable design, our 100% sustainable natural liners feel like a gentle hug for your lady parts that keep you fresh and worry-free all day long. What's more, they're unscented and organic, which supports you and our planet for a long time!
Say goodbye to those "uh-oh" moments and hello to feeling like a fierce, unstoppable queen. Because when life gets a little messy, our panty liners have your undies covered. So go ahead, embrace the unexpected and rock your day with confidence. 
Your secret weapon? 
Our amazing panty liners, of course! 
Why Go With Our Organic Panty Liners? 
Here's some Insider Scoop!:
1. Pure & chemical-free: Cambio liners keep it clean without harmful additives. No chemicals, no worries, no problem!
2. Earth-friendly flair: Get your eco-groove on! Cotton liners are made from sustainable materials, leaving a lighter footprint on our planet.
3. Hypoallergenic & gentle: Sensitive skin? No problem! Our Organic panty liners are super soft and perfect for delicate areas.
4. Breezy & absorbent: Stay cool, dry, and confident. Organic cotton lets your skin breathe while keeping leaks at bay.
5. Biodegradable beauty: Go green all the way! Organic cotton liners break down naturally, reducing waste and leaving a happier planet!
6. Sustainable style: Feel good about your choice! Organic liners support fair trade, fair wages, and ethical practices.
Why Cotton Panty Liners are Every Person's Essentials!
1. Freshness on the go: Don't let unexpected moments cramp your style! Panty liners keep you fresh and fabulous wherever you go.
2. Stay confident, no matter what: Stay one step ahead with the ultimate confidence booster. Panty liners are your secret weapon against surprises.
3. Hygiene made easy: Don't compromise on hygiene. Panty liners keep you feeling clean and protected, ensuring you're always at your best by keeping wetness and discharge at bay!
4. Bye-bye stains and odours: Say goodbye to embarrassing stains and unwelcome odours. Panty liners have got your back (and your front) covered.
5. Unleash your active side: From workouts to busy days, panty liners keep up with your active lifestyle, providing unbeatable freshness and comfort.
A Quick and Effective Guide on Choosing the Perfect Panty Liner for You!
1. Assess your needs: Consider your specific requirements, such as daily freshness, light spotting, or backup protection during your period.
2. Opt for comfort: Look for panty liners designed to be thin, soft, and comfortable, ensuring a barely-there feel throughout the day. 
3. Absorbency matters: Choose a panty liner with the right level of absorbency for your needs.
4. Stay in place: Select panty liners with adhesive wings or a secure backing to stay firmly in place.
5. Consider materials: Opt for panty liners made from biodegradable, organic and hypoallergenic materials if you have sensitive skin or prefer natural options.
Know More: types of period products
How To Use Panty Liners?
Using natural panty liners is quick and effortless, providing you with the comfort and protection you need. Simply remove the liner from its wrapper and unfold it. Peel off the backing to expose the adhesive side. 
Carefully place the liner with the sticky side at the bottom onto the center of your underwear and press it firmly to ensure it stays in place. Adjust as per your comfort levels. When you're ready to remove it, peel it off the underwear and discard it. 
Remember to replace your panty liner regularly for optimal freshness and hygiene every 5-6 hours.
To know more about panty liners, you can check out our faqs on panty liners.
More period products from Cambio - organic pads, cotton tampons, menstrual cups, menstrual cup sterilizer and panty liner with pads