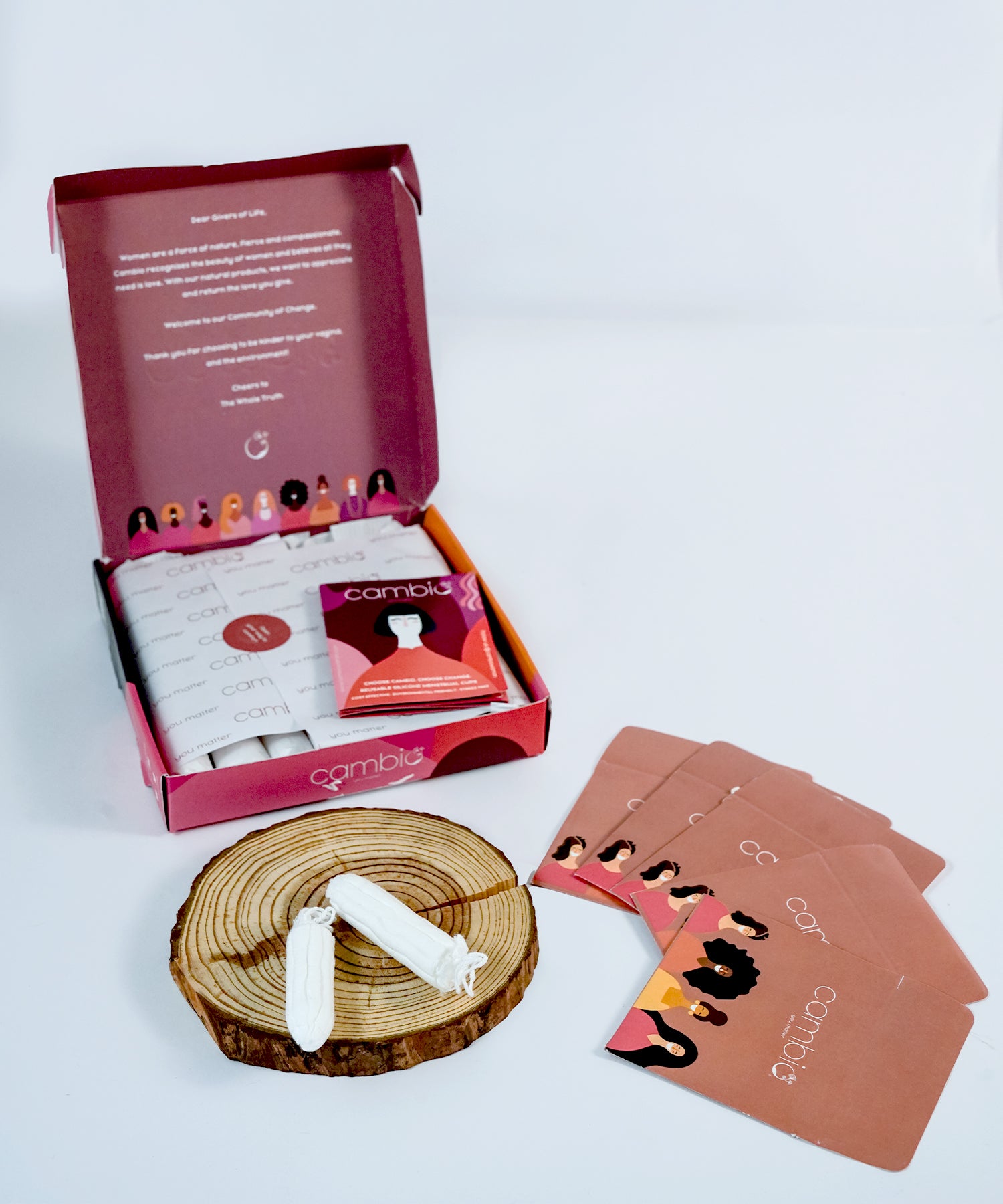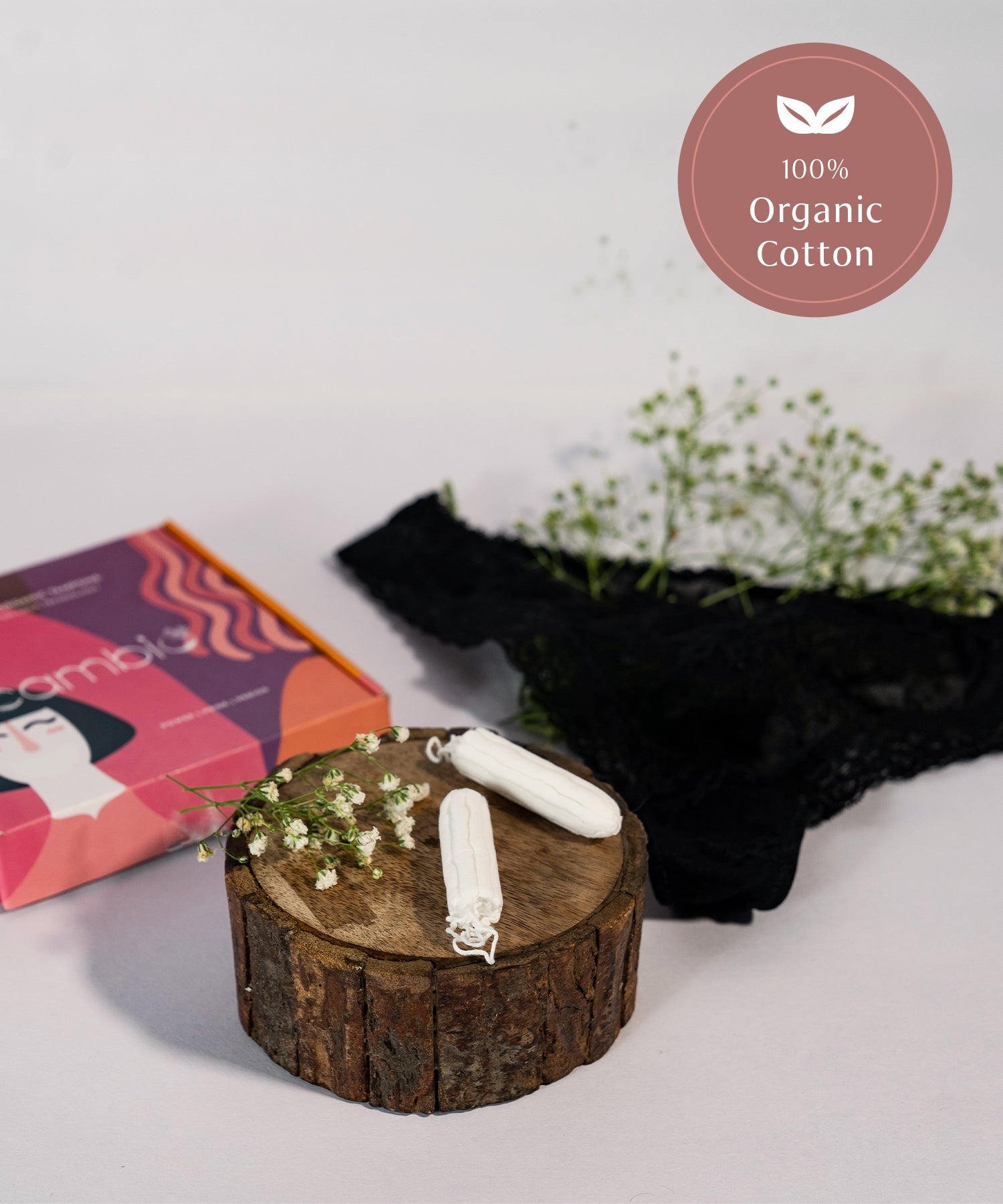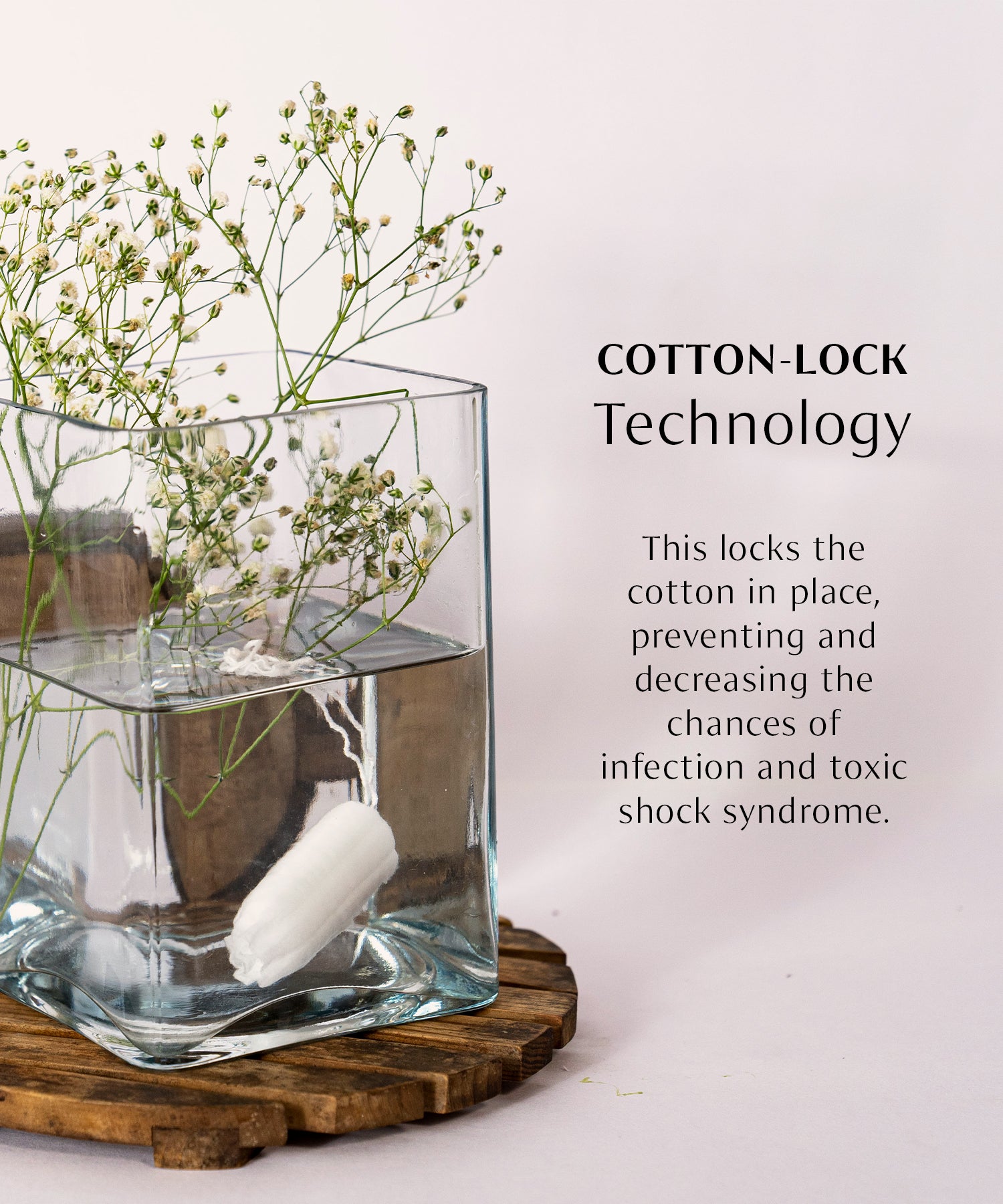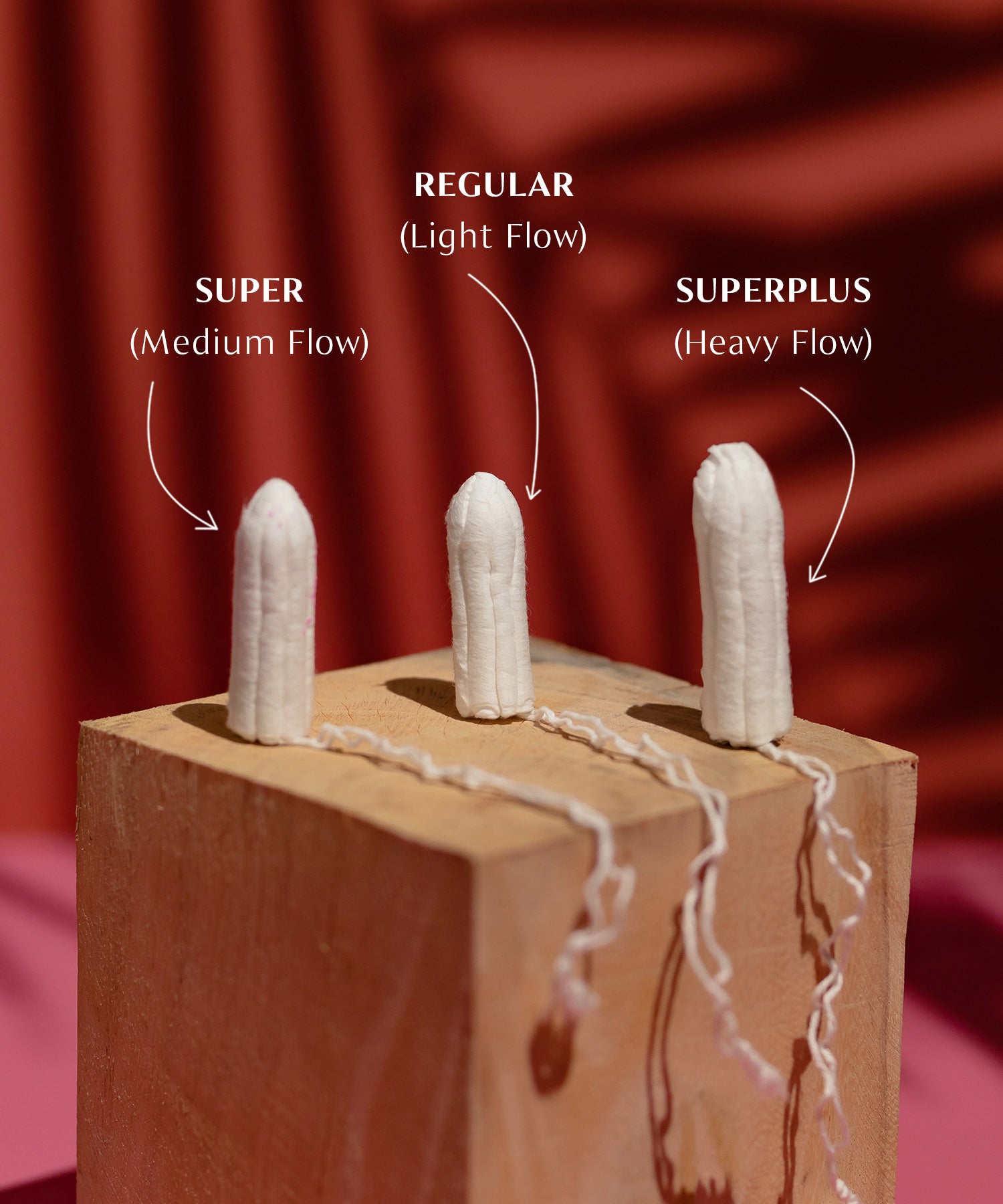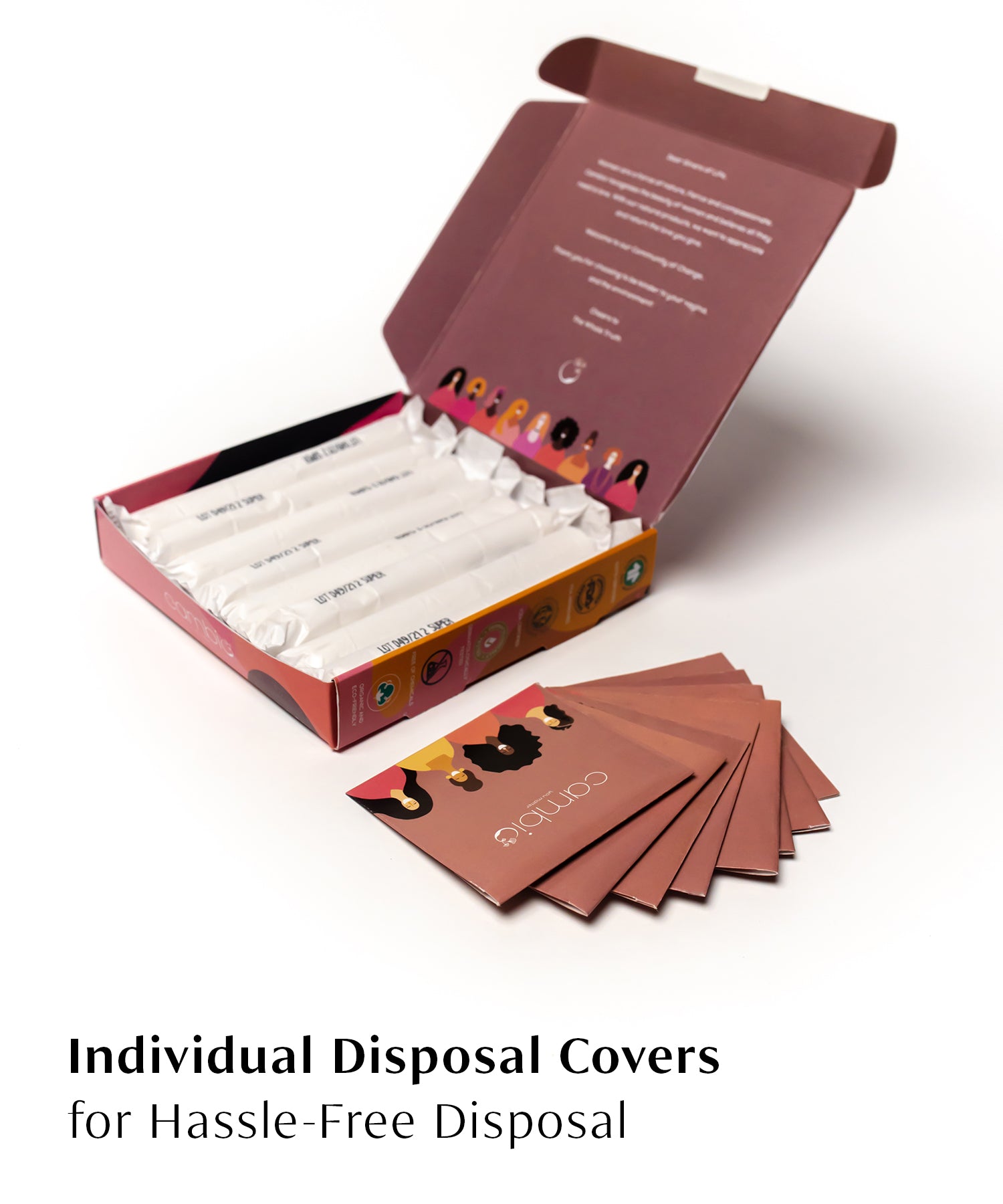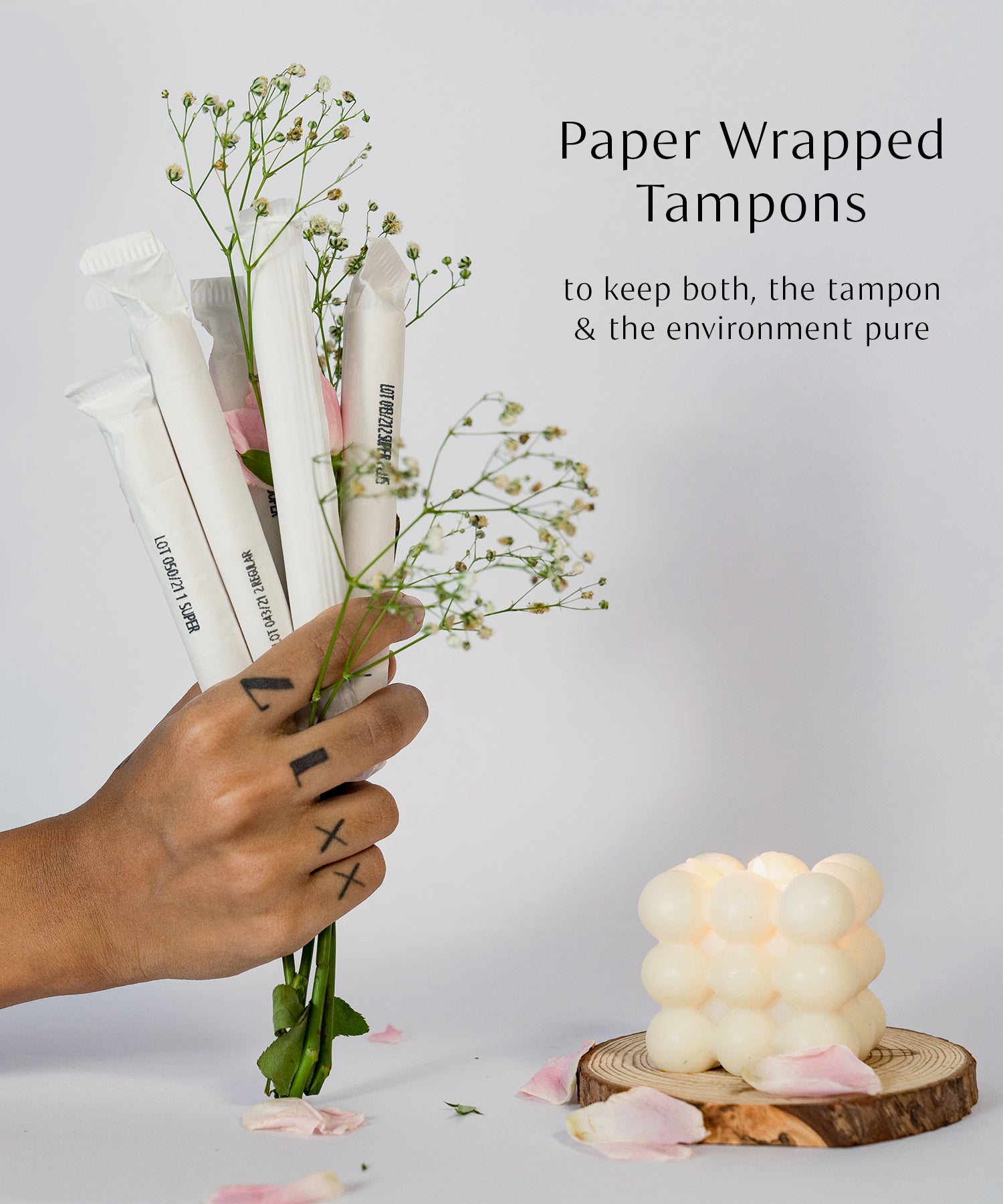 Organic Cotton Biodegradable Tampons
Organic Tampons made with you in mind! 100% organic cotton means maximum comfort and absorption, with no harmful elements. We aim to give you a happy period, every time.
Made with 100% organic cotton only.

Innovative Cotton Lock Technology ensures no fibre shedding and prevents infections and irritation.

FDA approved, GOTS certified, dermatologically & gynaecologically tested & no chemical additives

Easy insertion, soft and maximum absorption to keep you dry

Paper disposal bag for an easy and biodegradable disposal

Each Combo box contains equal number of regular & super-sized tampons
Cotton:  Our cotton grows in an organic field where the soil is untouched by chemicals for over three years, and is GOTS certified and 100% organic. Our natural sanitary products are safe for the earth and keep you warm like a mother's hug.
Cotton Lock Technology: Cambio tampons are the first in India to come with a Cotton-lock technology, that avoid tampon fibre shedding. Ordinary tampons leave a residue in your vagina leading to a disturbed PH balance and UTIs. Say yes to Cambio for a healthy vagina.
String: When you think it's time to change your tampon just pull the interval thread and give your vagina some time to breathe. The interval thread will remind you that your vagina needs a break too.
Paper Wrap: Our packaging is made from biodegradable material just like our products, creating a new wave of change for a better period and a better environment.
Disposable bag: Say goodbye to black bags with our sanitary sacks that come with the individual product for an easy disposal. Have a carefree period and leave the hassle to us!
Applicators: To make sure your first experience is comfortable; we have crafted tampons with applicators. Applicators make insertion of tampon easier for a hassle-free and safe usage.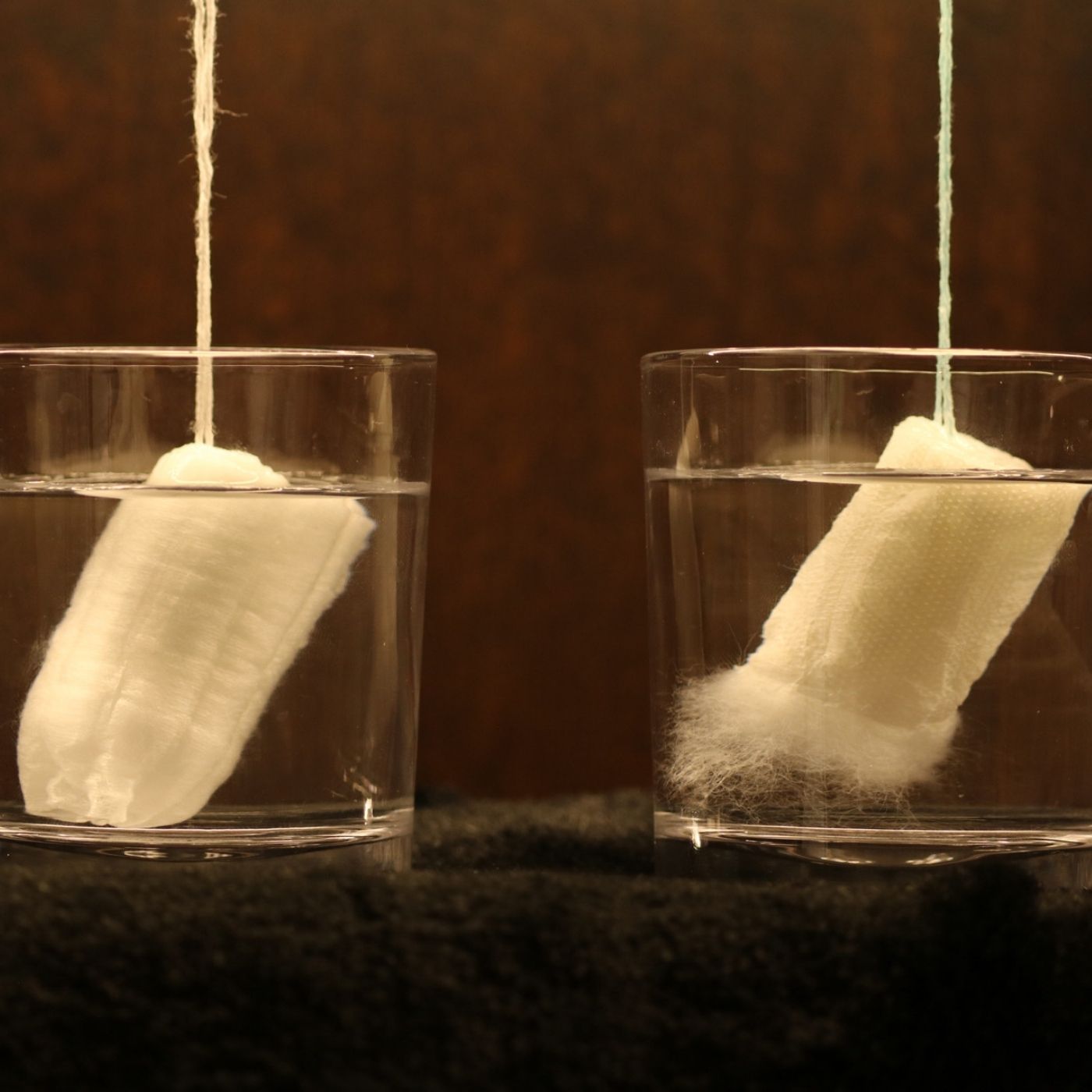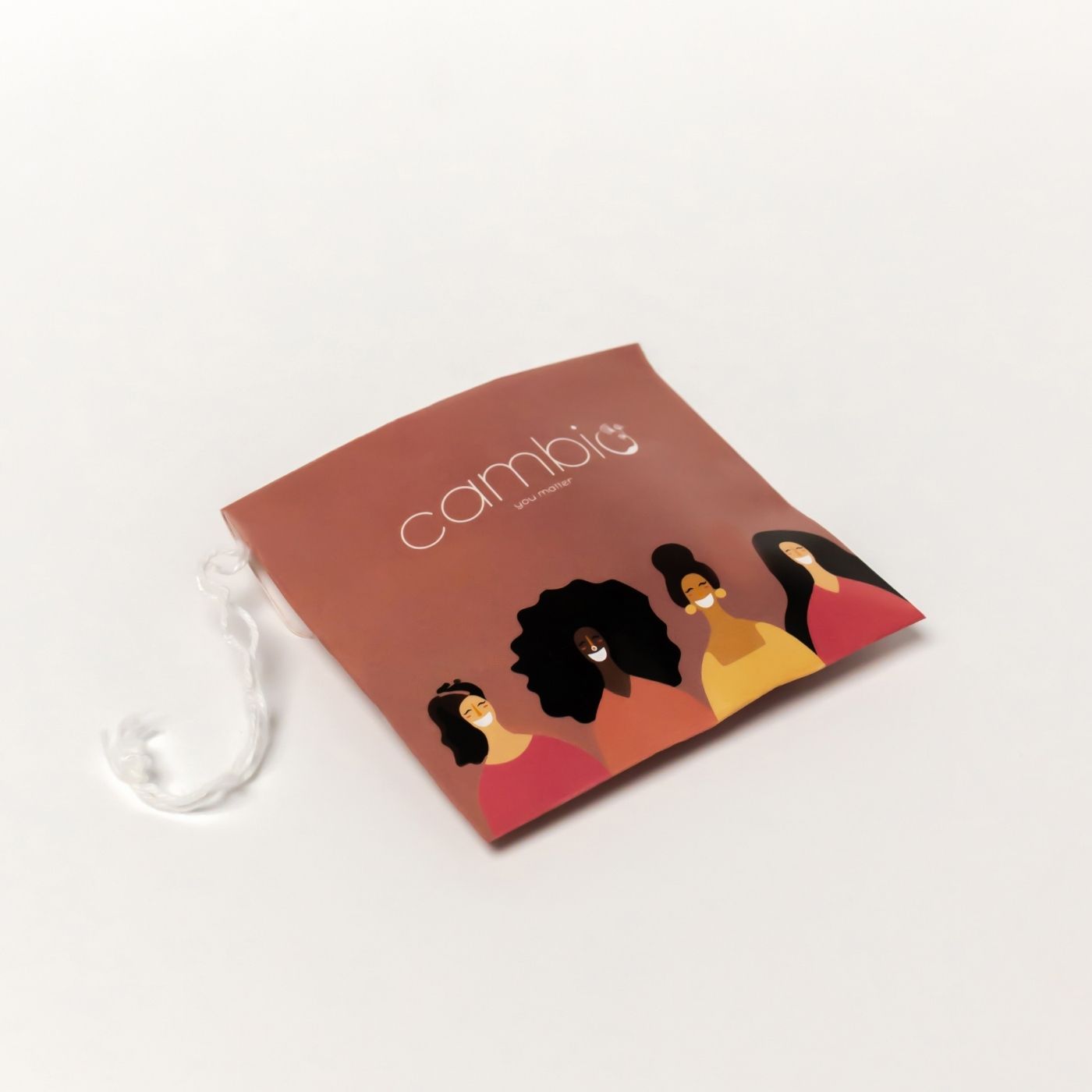 made with you in mind
Cotton Lock Technology
We have created India's first ever 100% Organic Cotton Tampons with Cotton Lock Technology. That means no risk of fibre shedding or infections. Our tampons are made with you in mind.
goodbye plastics
Paper Disposal Bags
All our tampons come with individual paper disposal bags. Use them, pop them in the bag and dispose. Now forget about those pesky, harmful, black plastics.
I've recently switched to tampons by Cambio, and it has made my periods so much comfortable & easy. It's organic & made from cotton, making it so much better.
Usually tampons get torn off in a couple of hours but Cambio Tampons did not. They're made of very premium quality Cotton. Superb experience. Never going back to any other brand
A tampon is a menstrual hygiene product that is inserted into the vagina to absorb blood and other fluids. A tampon is held in place by the vagina and expands as it absorbs period blood.
Tampons can indeed be made from different materials, and the two main types you mentioned are tampons made using chemical processes and tampons made from organic cotton. Here's a breakdown of each type:
Tampons made via chemical processes: These tampons are typically made from a blend of natural and synthetic fibers, such as rayon, viscose, or a combination of both. Rayon is a man-made fiber derived from wood pulp, while viscose is a type of rayon made from regenerated cellulose. These fibers are processed and treated with various chemicals to achieve the desired absorbency and other properties.
Organic cotton tampons: Organic cotton tampons are made from 100% organic cotton, which is grown without the use of synthetic pesticides or fertilizers. They are free from chemical additives and are typically biodegradable. Organic cotton tampons are often preferred by individuals who are conscious of potential chemical exposure or who have sensitivities to synthetic materials.
It's worth noting that tampons can also come with other components, such as a string for removal or an applicator for insertion. The materials used for these components may vary depending on the brand and product type.
When choosing tampons, it's important to consider your own preferences, comfort, and any sensitivities or allergies you may have. It's a good idea to read the product labels or descriptions to understand the specific materials used in the tampons you're considering.
Cambio tampons are GOTS Certified and made of 100% organic cotton including the absorbent core, packaging, cord and the disposal bags. They are totally natural and contain no harmful chemicals.
Tampons are available in three sizes. Regular (for light flow), Super (for medium to heavy flow) and Superplus (for extremely heavy flow).
Cambio tampons are 100% safe to use. They are made using eco-friendly materials like organic cotton and are free from any chemicals! So, don't worry about any infections down there!
The shelf life of Cambio tampons is 3 years.
Tampons create a deposit in your vaginal area, causing a PH imbalance and UTIs. Cambio tampons use Cotton-lock technology, which prevents the shedding of tampon fibres or any risk of infections.
Regular (6-9 grams). Super (9-12 grams). Super Plus (12-15 grams)
Yes, they are made of 100% organic cotton and are completely biodegradable.
ORGANIC TAMPONS
Buy Organic Tampons in India
Do you feel uncomfortable wearing sanitary pads? 
Does the wet feeling at the bottom also irritate you? 
Do you fear leaking fluid?
Don't worry. You are not alone in this natural cycle; Thousands of other women face the same problem with sanitary pads or napkins. This is where Cambio comes in with the best solution for you - "tampons".
Only a few women know this menstrual hygiene product, but there is no going back once you start using tampons. Just like organic pads and menstrual cups, organic tampons help women deal with their menstrual cycle more comfortably and conveniently. 
If you're looking for an alternative to sanitary pads, I'd recommend buying organic cotton tampons and trying them. And don't bother, Cambio has the best organic tampon for women in India for menstrual needs. The box includes both regular and super-size tampons, and if you don't know your flow, you can get both at once.
Here is a detailed guide on tampons vs sanitary pads
Why Tampons For Periods?
The hygiene of your private parts is something that you should never compromise on, especially while you are on your period.
Here are some of the reasons you should try tampons:
As compared to other menstrual products, tampons are smaller in size and hence it is easy to carry anywhere and simple to dispose of.
You can carry your physical activity even if you have tampons on. 
One of the significant reasons to use tampons is that they don't feel like you have it if appropriately inserted, and there is no dread about fluid leaking and irritation.
With tampons, you can wear any dress, unlike sanitary pads.
Tampons are inside your vaginal canal, so there is no need to get into the apprehension of odour.
Why Buy Organic Tampons?
But in the first place, why buy organic cotton tampons? And not simple cotton, rayon tampons or hybrid tampons.
The answer to this simple question is healthy, comfortable and pocket friendly compared to other tampons. 
Some cotton tampons sold in the market are not 100% organic as they use fertilizer to grow their cotton. Whereas rayon is a synthetic material, it is created using chemicals like chlorine, which further creates dioxins, a toxic chemical that can adversely affect your health and cause serious diseases.
So turning to 100% organic cotton tampons is the best choice. Cambio has the certified and best organic cotton tampons available in the market as the cotton grown is 100% chemical free, vegan, cruelty-free and biodegradable.
Moreover, we got approved certification from the FDA and Cambio's organic tampons are Dermatologically and Gynaecologically tested.
One more reason to buy cotton tampons is that they are much more comfortable to wear as compared to rayon tampons because cotton tampons are softer and, as discussed before, they are chemically free, so there is no chance of skin irritation and rashes.
Online Organic Tampons for Women (Advance Technology)
Cambio has the first-ever organic tampons that are 100% made of organic cotton with cotton lock technology. 
Now you might be wondering what cotton lock technology is? Here is a simple explanation that will make you more excited to give a try to Cambio's tampon.
The tampon is designed in a way that prevents tiny fibers from shedding or coming off the tampon. These fibers could cause an imbalance in the natural pH (acidity) of the vaginal area, which could potentially lead to infections.
By using Cambio tampons, you can help reduce the risk of these problems and stay healthy during your period.
Simple Tampon Buying Guide
The first thing you must consider is the size of the tampon while buying. Most of the women are unaware of the fact that tampon size depends on the flow and not the actual size. 
If your flow is light or medium, then you should go for a regular tampon and if your flow is heavy, which is usually your first 2 days of the period cycle, then you can go with super size. 
And if you are trying tampons for the first time, you must use the regular size as it is smaller than the super size because things can get intimidating. Moreover, you can use applicators to properly insert a tampon. Cambio offers tampons with applicators as well. You can check out here for more ease and convenience.
You can check out this article if you want a detailed guide on how to use a tampon or you want to explore more options: Types of Period Products
Organic Tampons at Best Price in India
Now this is one of the main sections as you might be interested in knowing the price of tampons. See, the cost of tampons mostly depends upon the product's quality, raw materials used to create tampons, size and absorbency level.
And in Cambio's case, cotton is the only raw material used, and no other substance or chemical is used. In addition to it, our product is FDA approved and also free from bleach which makes our product environment friendly.
Cambio's tampons come in 2 sizes, one regular and one super size with 16 pcs with paper disposal bags. You can easily buy organic tampons at the best price.
More from Cambio: menstrual cup sterilizer, pads and panty liner combo